Vetiver Essential Oils
Properties, Characteristics and Uses
of Vetiver Essential Oils in Aromatherapy
Botanical name : Vetiveria zizanoides.
Origin : Indonesia.
Scent : Earthy, woody, smokey aroma.
Note : base.
This essential oil compliments with geranium, jasmine, ylang-ylang, patchouli, clary sage and lavender individually.
This essential oil is extracted from the roots by steam distillation.
Used widely in perfumes industries.
The vetiver essential oil is characterized by an earthy, full, deep, dark, woody and spicy scent. Some finds a similarity in the odor of a damp forest floor to its scent. It is believed that using this essential oil will bring you closer to Mother Earth this substance having her scent.
Benefits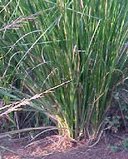 Physical Benefits
The vetiver essential oil was known as moth root. It was known as a moth-repellant in remote past. Cotton balls treated with the essential oil are sold in the market in little boxes and may be placed in between clothes or near any clothing with fur to repel moths.
This essential oil is also applicable to the skin. It encourages tissue regeneration so dull skin is replaced giving you a healthier and more radiant look. The application of this substance will help prevent stretch marks by enhancing the skin's flexibility especially on women in gestation. This is best preventing stretch marks when combined with Geranium and Ylang-ylang.
This essential oil has a quality that helps balance hormones in the body attaining optimum body condition and preventing any psychological lash backs due to the imbalance. It also mimics the effect of estrogen in women that helps stabilize emotional state especially those in the post-partum depression stage.
This Vetiver essential oil has a fresh and light woody scent to it. It is commonly used as a n additive in fragrances and also in potpourris. It is also added in lotions to help improve lymphatic circulation reducing pains of the joint and increasing expulsion of the toxins as well. This essential oil is a natural moisturizer that can treat skin dryness, sensitive, mature and aging integument.
The Vetiver essential oil by far is the best essential oil to use for boosting one's resistance to illness. This substance also induces calm and is commonly used in baths to help ease stress. Also it is good for disinfection because of its antiseptic quality that will be effective in clearing acne, wounds and cuts as well.
The use of this essential oil will be helpful to those in menopausal stage to help them attain equilibrium by inducing balance in the hormones produced in the body. The use of this substance during gestation will help rejuvenate tired looking skin.
Mind and Spirit
This essential oil is used in treating anxiety, fatigue and anorexia. This is also effective in releasing tension attaining a more stable mental and emotional state. The scent of this substance helps instill a feeling of rejuvenation, energy restoration. The calming effect of this essential oil will aid in sharpening dulled senses increasing self awareness.
This oil also rouses the need for intimacy and will get the experience to a concrete higher level. It is however important to understand that this essential oil must only be used externally like in massages, lotions, baths and fragrances. This essential oil compliments with sandalwood.
Caution
The advantage of using this essential oil is that it is not toxic, not irritating and so it is safe to use
Buy Essential Oils
Buy this essential oils from reputable supplier. Make sure you get organic essential oils. Available in 1/2 oz up to 16 oz. Price starts from $ 9.50. Buy Vetiver essential oils
And don't forget to check out if we have a discount deal for this essential oils. Click here to find more about cheap essential oils
How To Use
Find Essential Blend Recipes using this essential oils within this site.


Back to Essential oils and Their Usage

Back to Aromatherapy and Essential Oils Information


---
Aromatherapy Blog | Advantages of Aromatherapy | Aromatherapy Essential Oil | Essential Oils and Their Usage | Aromatherapy Carrier Oils Information | Aromatherapy Blends Recipes | Aromatherapy Hydrosol | Aromatherapy Absolutes | Aromatherapy Candles | Aroma Diffusers | Aromatherapy for Weight Loss | Free Home Spa Ideas | Aromatherapy and Nature Crafts | Aromatherapy Pregnancy | Information About Lavender | Essential Oils for Respiratory System | Natural Ways to Deal with Stress | Aromatherapy Treatment | Aromatherapy for Pet | Chakra Essential Oils | Aromatherapy for Men | Health Benefits of Aromatherapy | Easy Homemade Gift Ideas | Aromatherapy for Women | Essential Oils Cheap or Sale | Aromatherapy Store | Fun Aromatherapy Stuff | Free Samples Aromatherapy | Aromatherapy Free Information | Aromatherapy Advice and Tips | Share Aromatherapy Recipes | Aromatherapy Videos | Aromatherapy Book Review | Aromatherapy Magazine | Aromatherapy Products Review | Aromatherapy Event | Aromatherapy Business Directory |
---