Tea Tree Essential oils
Properties, Characteristics and Uses
of Tea Tree Essential oils in Aromatherapy
Botanical name : Melaleuca alternifolia.
Origin : Australia.
Scent : Spicy and rather pungent smell.
Note : Top.
This essential oil is extracted from the leaves and twig by steam distillation.
Tea tree oil also known as Melaleuca Alternifolia was named such because it was used as an alternative to tea itself.
The use of this small tree has been found by the Australian aborigines who started using the plant's leaves for healing that latter was determined true to the plant's characteristic, antiseptic.
The aborigines crush the leaves and then use the paste on wounds for treatment not entirely known for disinfection as an antiseptic though at that time.
It was late in 1920s that this essential oil was introduced to Europe then it became part of the medical kits disposed during World War II.
Benefits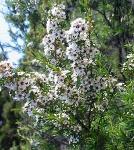 Physical Benefits
The Tea Tree essential oil has been approved through laboratory tests for its applicability. It was determined that it has the chemical component terpinen that is an antimicrobial agent making this essential oil product suitable for disinfection and prevention of infection's furtherance.
This Tea Tree essential oil is classified as a middle note. The consistency is barely viscous and is like water. The odor is pungent, spicy and herbaceous. The substance is characterized by a pale green hue.
The topical application of this essential oil potentially will reduce the furtherance of fungal infection. Cases like acne, nail, vaginal infections, dandruff, and athlete's foot are few of the conditions it is proven effective on. Even lice infestation may be treated with this essential oil.
Another significant finding relevant to this clinically tested extract is its antibiotic quality against the Methicillin Resistant Staphylococcus Aureus (MRSA). This strain is resistant to a multitude of antibiotics but it is vulnerable to the tea tree oil extract when administered as an intervention. Those infected by this problematic strain manifests symptoms like skin lesions.
This essential oil is best administered by infusing the drops to baths or in massages. This essential oil is also a component to a variety of common household products used daily like lotions, creams, shampoos, soaps, deodorants, and toothpastes.
On pets, it may be used as treatment for parasitic infestation and as a disinfectant of their coat as well.
Find out more on Tea Tree Oils Uses and Benefits.
Cautions
Do not have it contact with eyes or use it as a nose drops.
Skin patch test is recommended especially if you have sensitive skin.
Do not induce vomiting if you swallowed it.
Click here to read more about Tea Tree Essential Oils Side Effects
Buy Essential Oils
Buy this essential oils from reputable supplier. Make sure you get organic essential oils.Available in 1/2 oz up to 16 oz. Price starts from $6.50. Buy Tea Tree Essential Oils
And don't forget to check out if we have a discount deal for this essential oils. Click here to find more about cheap essential oils
How To Use
Find other Essential Blend Recipes using this essential oils within this site.


Back to Essential oils and Their Usage

Back to Aromatherapy and Essential Oils Information


---
Aromatherapy Blog | Advantages of Aromatherapy | Aromatherapy Essential Oil | Essential Oils and Their Usage | Aromatherapy Carrier Oils Information | Aromatherapy Blends Recipes | Aromatherapy Hydrosol | Aromatherapy Absolutes | Aromatherapy Candles | Aroma Diffusers | Aromatherapy for Weight Loss | Free Home Spa Ideas | Aromatherapy and Nature Crafts | Aromatherapy Pregnancy | Information About Lavender | Essential Oils for Respiratory System | Natural Ways to Deal with Stress | Aromatherapy Treatment | Aromatherapy for Pet | Chakra Essential Oils | Aromatherapy for Men | Health Benefits of Aromatherapy | Easy Homemade Gift Ideas | Aromatherapy for Women | Essential Oils Cheap or Sale | Aromatherapy Store | Fun Aromatherapy Stuff | Free Samples Aromatherapy | Aromatherapy Free Information | Aromatherapy Advice and Tips | Share Aromatherapy Recipes | Aromatherapy Videos | Aromatherapy Book Review | Aromatherapy Magazine | Aromatherapy Products Review | Aromatherapy Event | Aromatherapy Business Directory |
---