Rose Essential Oils
Properties, Characteristics and Uses
of Rose Essential Oils in Aromatherapy
Botanical name : Rosa Damascena.
Origin : Bulgaria.
Scent : Rose floral aroma.
Note : Base/middle.
This essential oil is extracted from the flowers by steam distillation.
Blends well with Bergamot, clary sage, chamomile, frankincense, fennel, lavender, geranium, juniper, jasmine, neroli, Melissa, patchouli.
Rose with scientific name Rosa Damascena is somehow one of the easiest to find in terms of raw materials in extracting the Rose essential oil. It is propagated around the world for its beauty and aroma. But other than those that were mentioned, this flora has more to it than just beauty.
The essential oil is extracted through steam distillation and the by product is what is sold in the market for use. It is however one of the most expensive of all essential oils and cost will range from $24-$60 for 1/8 of an ounce of this any combination with this essential oil.
It is characterized by a sweet-floral scent as its origin, it is clear and the consistency is like that of water. It is classified as a middle note type of essential oil.
Benefits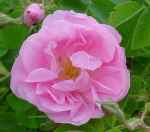 Physical Benefits
The rose essential oil was first extracted by Avicenna, an Arabic Physician. It was acknowledged that he was the first to extract the rose oil.
Subsequent to this he wrote a book that discusses the different qualities and healing properties of this beneficial essential oil. He indicated that this oil type may be used for massages, baths, and also through diffusers.
With its origin, it has become a very popular additive in fragrances and this is one oil type that may be applied with out dilution because of its notable gentle-chemistry. Additionally, this essential oil is also good for attaining a stable and well balance emotional state by neutralizing negative emotions like anxiety, grief and stress
The Rose essentialoil has notable quality in promoting cell repair. This quality has been observed since remote past and it has been used to treat mouth sores and also on wounds. It also has the quality in treating cases related to the respiratory system and the nasopharyngeal tract including colds, coughs, congestion of the nose and also sore throat. In more aggressive infections, like herpes outbreaks, it helps in hastened recovery from the condition. It is also used in treating gingivitis as well.
Rose essential oil acts as tonic to the digestive tract that helps avoid constipation and vomiting secondary to nausea. It has an analgesic property that aids in pain relief like simple headaches to torturing migraines.
This substance has an affinity to the female gender having certain qualities that is very useful in promoting hormonal balance directly resulting to regulated menstrual flow, aids in easing the symptoms of Pre-Menstrual Syndrome, menopause and other discomforts relating to hormonal imbalance due of ovulation.
It has the quality to promote better circulation that increases body functionalities. It is claimed that the use of rose oil will help alleviate impotence, frigidity and other sexual dysfunctions especially those that are caused by stress. Additionally, it is tonic to the capillaries as well.
It has qualities that are attributed to improving skin conditions. It relieves the symptoms of psoriasis, eczema and other skin-inflammatory disorders. It has the ability to reduce swelling by increasing lymphatic and blood circulation.
The Rose essential oil can be used on all skin types; damaged, dry, sensitive, and mature skin. The application of the rose oil will help moisturize the skin relieving dry and dull skin thus preventing and or reducing the occurrence or prominence of wrinkles.
It is a vasoconstrictor that when applied it constricts the free edges of broken capillaries reducing the prominence of the anomaly. As a tonic to the blood vessels and capillaries it prevents further damaging of the capillaries. The rose water has a soothing effect and a nourishing formula that may be used to promote even skin tone and applied through a diffuser as a facial mist.
Mind and Spirit
The rose oil and its origin have been associated with the feeling of love and confidence to others. It is a very good alternative medicine intervention for relieving stress, depression, anxiety, tension and panic. All these negative emotions are neutralized with the use of this effective essential oil. The origin of Rose water has been used to symbolize innocence, love and chastity. Its aroma also stimulates intimacy and has been claimed as with an aphrodisiac quality. It helps in alleviating cases that are caused by stress like that of frigidity and also impotence.
Cautions
The Rose essential oil is gentle enough that it may be used on infants.
OTTO, ABSOLUTE OR Floral Water
Rose OTTO, ABSOLUTE OR Floral Water - WHAT'S THE DIFFERENCE?
First of all, most rose oil comes from the Damask rose [rosa damascena], which is primarily cultivated in Bulgaria, Turkey, Egypt, France, and Morocco. Otto ,absolute or floral water refer to how the oil is derived from the fragrant petals.
Absolute sounds like it's the best, but in fact, it's a concentrated semi-solid material obtained by alcohol extraction. Otto is done via steam distillation, thus increasing its cost.
Rose water or Hydrolats are the remaining pure waters of the steam distillation of plant materials. They contain a minute quantity of essential oil made of the very few water soluble molecules that contain all the therapeutic principles of the plants. They may be clear or slightly coloured. Their aroma is fragrant and fresh, reminiscent of, but somewhat different to, the natural aroma of the plants and flowers from which they have been distilled.
Buy Essential Oils
Buy rose essential oils from reputable supplier. Make sure you get organic essential oils. Available in 1/8 oz, 1/4 oz, and 1/2 oz.Price starts from $ 99.00 Buy Rose Essential Oils
And don't forget to check out if we have a discount deal for this essential oils. Click here to find more about cheap essential oils
How To Use
Find Essential Blend Recipes using this essential oils within this site.


Back to Essential oils and Their Usage

Back to Aromatherapy and Essential Oils Information


---
Aromatherapy Blog | Advantages of Aromatherapy | Aromatherapy Essential Oil | Essential Oils and Their Usage | Aromatherapy Carrier Oils Information | Aromatherapy Blends Recipes | Aromatherapy Hydrosol | Aromatherapy Absolutes | Aromatherapy Candles | Aroma Diffusers | Aromatherapy for Weight Loss | Free Home Spa Ideas | Aromatherapy and Nature Crafts | Aromatherapy Pregnancy | Information About Lavender | Essential Oils for Respiratory System | Natural Ways to Deal with Stress | Aromatherapy Treatment | Aromatherapy for Pet | Chakra Essential Oils | Aromatherapy for Men | Health Benefits of Aromatherapy | Easy Homemade Gift Ideas | Aromatherapy for Women | Essential Oils Cheap or Sale | Aromatherapy Store | Fun Aromatherapy Stuff | Free Samples Aromatherapy | Aromatherapy Free Information | Aromatherapy Advice and Tips | Share Aromatherapy Recipes | Aromatherapy Videos | Aromatherapy Book Review | Aromatherapy Magazine | Aromatherapy Products Review | Aromatherapy Event | Aromatherapy Business Directory |
---