How to Make Pot pourri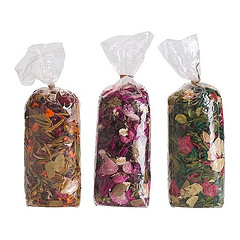 Pot pourri is French for " rotten pot" and get its name from a fermented, layered mixture of flower petals, salts, spices and fixatives.
In old fashioned way, this unsavory looking but fragrant substance are stored in a lidded pot and used to mask unpleasant smells and to ward off diseases.
Today, old fashioned or moist potpourri has been largely replaced with dried ones, which is easier and quicker to make.
Materials for making pot pourri are :
Flowers, leaves and herbs.
Make sure that all the plant material is thoroughly dry before making up the potpourri.
Spices
Cinnamon, nutmeg, cloves and allspice are traditional. But sometimes we also use anise, cardamom, coriander, vanilla pods to make exotic mixture. Freshly grounds have stronger, clearer aroma than powders. Cinnamon, allspice and juniper berries are sometimes used whole for textural interest.
Dried Citrus peel
Orange and lemon are used to add a refreshingly sharp contrast to floral scents. But sometimes we use lime and grapefruits. Use thin-skinned fruit or use a sharp knife to remove the skin with a minimum of pitch attached.
Fixatives
There are used to absorbs, blend and preserve the scent of dried all these ingredients. Here you can used dried orris root or gum benzoin. Orris root has a lovely violet scent of its own.
Essential oils
Rose, lavender, geranium, sandalwood, lemon verbena, cedarwood, eucalyptus, citronella are used to enhance pot pourri.
What to Pick ?
For Fragrance : province roses, damask roses, lavender, wallflower, chamomile, verbena, tansy, sweet woodruff, hyacinth, heliotrope, narcissus, clove pink, tobacco plant, cotton lavender, sweet violet, lilac, sweet pea, mimosa, mock orange, freesia, lime blossom, jasmine, honeysuckle.
For Color : Florist's roses, calendula, peony, cockscomb, marigold, pansy, yarrow, hibiscus, helichrysum, heather, statice, buttercup, golden rod, zinnia.
For bulk and aroma : lemon verbena, rosemary, scented geranium, lemon balm, lemon thyme, sweet basil, sweet marjoram, bay, bergamot, dill, sage, myrtle, various mints.

Visit Our Supplier for a Fresh Picked Materials
Picture of Potpourri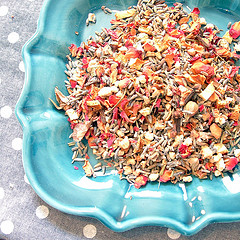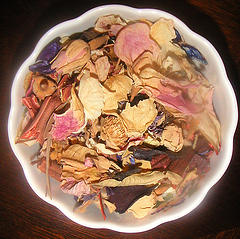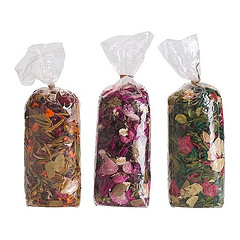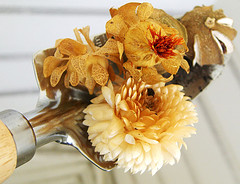 Homemade Potpourri Recipes
Traditional Potpourri.
You will need :
1 cup of each dried rose petals and lavender
½ cup dried rose buds, lemon verbena leaves, and scented leaf geranium leaves.
1 strip dried lemon peel
1 tbsp allspice berries
1 ½ tbsp cloves
1 cinnamon stick
2 tbsp dried orris root powder
2 drops essential oil / Fragrance oil ( For traditional usually use rose oil ).
Scissors
Pestle and mortar
Lidded jar
How To Make Pot pourri?

Mix the dried petals, buds, lavender and leaves in a large bowl. Cut the lemon peel into pieces and add to the bowl.
Using pestle and mortar, crush the allspice berries and cloves. Break the cinnamon stick into small pieces. Add all the spices and mix thoroughly.
sprinkle the orris root powder over the ingredient and add the rose oil and mix.
Place the lidded jar and store for 4 weeks, shaking and gently stirring the mixture every few days. Display in a glass container, a basket or use in scented sachets.
Lavender Sachet Potpourri
You will need:
3 cups Statice Flowers (Purple)
2 cups Lavender
2 cups Violets
1 1/2 cups Oak Moss – Whole or Orris root
1 1/2 cups poppy seed
1 1/2 cups Linden leaves and flowers
1 cup Anise -whole
1 cup Lemon Verbena Leaves
1/2 cup Allspice whole
1/2 cup Cinnamon Chips – large cut
1/2 cup Uva Ursi (Pinguica) Leaves
1/4 cup Cloves - Whole
1 oz Lavender Essential Oil or Fragrance Oil.
How To make pot purri :

Simply combine the essential oil(s) to oak moss and mix thoroughly. store it in a glass container that is sealed for a month.
After the suggested time of storage you may then blend the combination with flora and spice to achieve the desired scent
Allow this combination to sit for another month in a glass gallon to fixate the scent in the combination
Take as much as you want to put in a decorate container and store the remaining in a sealed glass jar

Visit Our Supplier for a Fresh Picked Materials
---
Follow Aromatherapy at home
---
Free Download "7 Days Home Spa".
Finally! An Ebook about mini Home Spa that will make your body and beauty refresh. Create a relaxing home spa experience for yourself to melt away stress and leave you feeling pampered and relaxed.

Download "7 Days Home Spa" e-book


From Pot pourri Back to Aromatherapy and Nature Crafts

Back to Aromatherapy and Essential Oils Information


---
Aromatherapy Blog | Advantages of Aromatherapy | Aromatherapy Essential Oil | Essential Oils and Their Usage | Aromatherapy Carrier Oils Information | Aromatherapy Blends Recipes | Aromatherapy Hydrosol | Aromatherapy Absolutes | Aromatherapy Candles | Aroma Diffusers | Aromatherapy for Weight Loss | Free Home Spa Ideas | Aromatherapy and Nature Crafts | Aromatherapy Pregnancy | Information About Lavender | Essential Oils for Respiratory System | Natural Ways to Deal with Stress | Aromatherapy Treatment | Aromatherapy for Pet | Chakra Essential Oils | Aromatherapy for Men | Health Benefits of Aromatherapy | Easy Homemade Gift Ideas | Aromatherapy for Women | Essential Oils Cheap or Sale | Aromatherapy Store | Fun Aromatherapy Stuff | Free Samples Aromatherapy | Aromatherapy Free Information | Aromatherapy Advice and Tips | Share Aromatherapy Recipes | Aromatherapy Videos | Aromatherapy Book Review | Aromatherapy Magazine | Aromatherapy Products Review | Aromatherapy Event | Aromatherapy Business Directory |
---