Melissa Essential Oils
Properties, Characteristics and Uses
of Melissa Essential Oils in Aromatherapy
Botanical name : Melissa Officinalis.
Origin : Mediteranian.
Scent : Citric-rose, fresh with lemon smell.
Note : Middle.
Blends well with Geranium, Lavender, Orange and Lemon.
This essential oil is extracted from leaves and flowering tops by steam distillation.
This is an expensive oil due to its productions. Took a large quantity of melissa plants to produce a small volume of oil. If you find store selling cheap price for this oil, you should be cautious. A blends of citronella and lemongrass can sometimes misleading people to melissa oil.
Benefits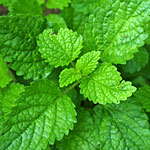 Physical Benefits
Lemon Balm, also known as Melissa Oil (Melissa Officinalis), is an essential oil characterized by a citrusy, floral and sharp scent.
It has a soothing effect and also a fresh scent that is stimulating to both the mind and the body.
For baths, it is recommended to infuse up to three drops in a tub of water.
The major components of this essential oil are linalyl acetate, eugenol, geraniol, citronellal and citral.
This oil is inducing comfort especially during spring and the winter months.
Mind and Spirits
Research and further studies shows that the use of Melissa essential oil helps reduce aggression on individuals. This was proven by a study conducted on 72 dementia patients with severe manifestation of agitation characterized by restlessness, shouting, aggression, abnormal vocalization, anxiety, petulance, and abnormal pacing.
The method of clinical testing utilized was the structured Double-Blind Study wherein neither the participants nor the study investigators are aware that these individuals are undergoing a series of clinical observation. These 72 dementia patients were sourced from eight different National Health Service nursing homes in the United Kingdom.
The study groups were separated into two. One administered with a placebo combination of ten percent dilution of sunflower oil to a base lotion. The same was done to the second group with Melissa oil in place of the sunflower oil. By week four, the second group exhibited significant reduction in aggression by 30% which is a very notable progress for people who are mentally and emotional unstable.
Cautions
The use of this top note essential oil should be regulated. For baths, the essential oil must not exceed more than three drops as it may cause skin irritation.
For other uses, Melissa must be diluted to one percent of the total volume to avoid irritation as well.
Buy Essential Oils
Buy this essential oils from reputable supplier. Method of Cultivation- Cultivated (100% Pure and Undiluted). Available in 1/8 oz & 1/4 oz. Price starts from $ 49.00 Buy Melissa Essential Oils
And don't forget to check out if we have a discount deal for this essential oils. Click here to find more about cheap essential oils
How To Use
Find Essential Blend Recipes using this essential oils within this site.


Back to Essential oils and Their Usage

Back to Aromatherapy and Essential Oils Information


---
Aromatherapy Blog | Advantages of Aromatherapy | Aromatherapy Essential Oil | Essential Oils and Their Usage | Aromatherapy Carrier Oils Information | Aromatherapy Blends Recipes | Aromatherapy Hydrosol | Aromatherapy Absolutes | Aromatherapy Candles | Aroma Diffusers | Aromatherapy for Weight Loss | Free Home Spa Ideas | Aromatherapy and Nature Crafts | Aromatherapy Pregnancy | Information About Lavender | Essential Oils for Respiratory System | Natural Ways to Deal with Stress | Aromatherapy Treatment | Aromatherapy for Pet | Chakra Essential Oils | Aromatherapy for Men | Health Benefits of Aromatherapy | Easy Homemade Gift Ideas | Aromatherapy for Women | Essential Oils Cheap or Sale | Aromatherapy Store | Fun Aromatherapy Stuff | Free Samples Aromatherapy | Aromatherapy Free Information | Aromatherapy Advice and Tips | Share Aromatherapy Recipes | Aromatherapy Videos | Aromatherapy Book Review | Aromatherapy Magazine | Aromatherapy Products Review | Aromatherapy Event | Aromatherapy Business Directory |
---