Making Soy Candles with Essential Oils
Making soy candles with essential oils is necessary if you want to experience real aromatherapy.
Soy candles are great because they're all natural; they're made from 100% soybeans, and also easy to clean up, just use soap and water.
It cannot be helped that consumers in the new era gets an increasing awareness on the use of environment friendly products and so this product will be preferred. This candle is made of all natural ingredients resulting to very minimal exhaust and is biodegradable.
Basic Recipe
To make Soy Candles you will need three (3) basic components that are soy wax, dye and the fragrance.
Melt 1 pound wax in a clean pan in medium heat. Remove the pan when the wax is completely melted to avoid overheating. Add 1 ounce of fragrance with a few drops of dye while cooling and then pour the combination into the molder while the wick is positioned to the center of it.
You may use a pencil or a clothes pin to keep the wick straight. The container may vary as desired like a mason jar. After cooling, cut the wick to half an inch from the tip of the candle made. Use as desired for your personal enjoyment.
To use : put the soy candles in a container, soy wax has a lower melting point than paraffin and you may find a puddle soon after lighting if it's not in a container.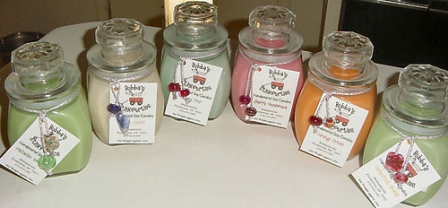 You can make soy candles with Essential oils easily. Here are some essential oils you can use: Lavender, Peppermint or Patchouli essential oils. Or try blends of 2 or 3 essential oils for making soy candles.
Some examples are:
Ginger Lemongrass: Ginger & Lemongrass essential oils.
Morning Fresh Blend: Ylang Ylang, Sweet Orange and Patchouli essential oils.
Enchanted Forest Blend: Vetiver, Juniper, and Cedarwood essential oils.
Pure Sunshine Blend: Lemon Verbena, Lavender, grapefruit essential oils.
---
Follow Aromatherapy at home
---
Free Download "7 Days Home Spa".
Finally! An Ebook about mini Home Spa that will make your body and beauty refresh. Create a relaxing home spa experience for yourself to melt away stress and leave you feeling pampered and relaxed.

Download "7 Days Home Spa" e-book


Making Soy Candles with Essential Oils Back To Aromatherapy Candles.

Back to Aromatherapy and Essential Oils Information


---
Aromatherapy Blog | Advantages of Aromatherapy | Aromatherapy Essential Oil | Essential Oils and Their Usage | Aromatherapy Carrier Oils Information | Aromatherapy Blends Recipes | Aromatherapy Hydrosol | Aromatherapy Absolutes | Aromatherapy Candles | Aroma Diffusers | Aromatherapy for Weight Loss | Free Home Spa Ideas | Aromatherapy and Nature Crafts | Aromatherapy Pregnancy | Information About Lavender | Essential Oils for Respiratory System | Natural Ways to Deal with Stress | Aromatherapy Treatment | Aromatherapy for Pet | Chakra Essential Oils | Aromatherapy for Men | Health Benefits of Aromatherapy | Easy Homemade Gift Ideas | Aromatherapy for Women | Essential Oils Cheap or Sale | Aromatherapy Store | Fun Aromatherapy Stuff | Free Samples Aromatherapy | Aromatherapy Free Information | Aromatherapy Advice and Tips | Share Aromatherapy Recipes | Aromatherapy Videos | Aromatherapy Book Review | Aromatherapy Magazine | Aromatherapy Products Review | Aromatherapy Event | Aromatherapy Business Directory |
---