Make Perfume with Essential Oils
Tips to Make Perfume with Essential Oils
Everyone knows about the aromatherapy aspects of essential oils but perhaps the most delightful of its aspects is one's ability to make perfume with essential oils.
While there are many perfumes available on the market, you can actually make your own unique blend using your favorite scents.
While there's really no limit to what combinations you can make for to make your own scent, there are a couple of guidelines to follow in order to make a success out of your perfume making.
Perfumes are actually quite easy to make. All you need is a high-proof alcohol, distilled water and the essential oils of your choice. You can make a perfume with one essential oil or make an intricate blend with several different oils. But if you're planning to make a blend, there's another set of guidelines you need to be aware of.
Guideline of making perfume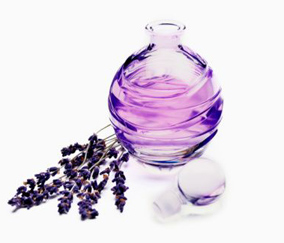 Make Perfume with Essential Oils
When using a blend to make perfume with essential oils, it's important to combine oils with high, middle and base notes that complement each other.
One way to make sure that your choice of essential oils doesn't clash is to choose oils that belong within the same family, like the citrus family or the wood family.
The citrus family is known for being a high note which means that the scent is volatile and disappears quickly.
The wood family is known for being a base note making the scent last longer.
Middle notes like lavender and geranium tend to make the high notes last longer but the base note will dominate the perfume if the high, middle and base notes are used in equal amounts.
The Recipe
To make your essential oils come into harmony in a perfume, use the 3-2-1 ratio. That stands for 3 drops of a high note, 2 drops of a middle note and 1 drop of a low note.
This ratio is then to be diluted in 1 ounce of carrier oil. To make a larger batch of perfume, do the simple math while keeping the ratio in mind.
Other Ingredients
Carrier oils
Carrier oils can be anything from pure grain alcohol like a low-scent vodka or you can just simply use jojoba oil.
Fixatives
Fixatives like pthalates and glycerin are sometimes added to perfume blends to depress the evaporation rate of essential oils.
This simply means that it makes the scent linger for a longer time. However, both agents are known to cause some allergic reactions.
Since essential oils don't really evaporate too quickly and due to the possibility of allergies being triggered, you can choose to leave the additives out of your perfume blends.
Keeping all these things in mind, you can make your own perfumes out of several combinations of essential oils.
Tips
Do remember to keep notes on what blends are successful and what blends don't fair too well. This way, you can recreate your favorite scent whenever you run out of it.
Also, remember that you need to have your perfume age for 2 weeks before using so the essential oils can be incorporated well into each other.
However, a scent may change the longer a blend stands. The change isn't that drastic but it can still be surprising and perhaps even be delightful.
With enough practice, patience and creativity, you can create the perfect perfume for you, the perfect gift for your friends or even make a small business out of it.
Some example for blending your perfume
Earthy Scents: patchouli, vetiver.
Floral Scents: geranium, jasmine, neroli, rose, ylang-ylang.
Fruity Scents: bergamot, grapefruit, lemon, lime, mandarin, orange,lemongrass.
Herbal Scents: angelica, basil, chamomile, clary sage, lavender, peppermint, rosemary.
Spicy Scents: black pepper, cardamom, cinnamon, clove, coriander, ginger, juniper, nutmeg .
Woodsy Scents: cedarwood, cypress, pine, sandalwood.
What's next?
Safety Guide when using aromatherapy - Please remember to read and follow all safety guidelines before using aromatherapy essential oils.
Tips on buy aromatherapy oils - Aromatherapy products make terrific gifts for friends, family members. Buy Aromatherapy products offers a unique opportunity to share the therapeutic value of essential oil.
Storage for essential oils - It is important to store each aromatherapy essential oil properly to preserve it. Particularly important is the bottle in which it is kept..
Profiles of essential oils - Each aromatherapy essential oil has its own unique scent and properties. They offer a variety of naturally occurring physical and mental benefits.
Aromatherapy Perfume Recipes - Confused on what to blend? then try these aromatherapy perfume recipes. Provides instruction on how to create fragrance to enhance one's mood.
Homemade Valentine Gifts - How to make Perfume using floral water as a base.
---
Follow Aromatherapy at home
---
Free Download "7 Days Home Spa".
Finally! An Ebook about mini Home Spa that will make your body and beauty refresh. Create a relaxing home spa experience for yourself to melt away stress and leave you feeling pampered and relaxed.

Download "7 Days Home Spa" e-book
From Make Perfume back to Essential oils Blends Recipes

Back to Aromatherapy and Essential Oils Information


---
Aromatherapy Blog | Advantages of Aromatherapy | Aromatherapy Essential Oil | Essential Oils and Their Usage | Aromatherapy Carrier Oils Information | Aromatherapy Blends Recipes | Aromatherapy Hydrosol | Aromatherapy Absolutes | Aromatherapy Candles | Aroma Diffusers | Aromatherapy for Weight Loss | Free Home Spa Ideas | Aromatherapy and Nature Crafts | Aromatherapy Pregnancy | Information About Lavender | Essential Oils for Respiratory System | Natural Ways to Deal with Stress | Aromatherapy Treatment | Aromatherapy for Pet | Chakra Essential Oils | Aromatherapy for Men | Health Benefits of Aromatherapy | Easy Homemade Gift Ideas | Aromatherapy for Women | Essential Oils Cheap or Sale | Aromatherapy Store | Fun Aromatherapy Stuff | Free Samples Aromatherapy | Aromatherapy Free Information | Aromatherapy Advice and Tips | Share Aromatherapy Recipes | Aromatherapy Videos | Aromatherapy Book Review | Aromatherapy Magazine | Aromatherapy Products Review | Aromatherapy Event | Aromatherapy Business Directory |
---