Lavender Soap
Lavender soap is very popular among the soapmakers. It is not only because of its lovely and soothing scent. But Lavender itself is said to relieve depression and stress.
Also, Lavender is an herbal ingredient with proven benefits to the skin, including its ability to repel mosquitoes.
Making your own soap at home is the best way to know that the soap you use contains only the best and freshest ingredients. One of the biggest causes of dry skin that breaks out is using too harsh of soaps. But, handmade soaps are made from natural ingredients that are gentle on your skin, even if you have a very sensitive skin.
Homemade soap can be a wonderful gift to your family and friends. Some people may find that handmade soap is considered a luxurious item. Treat the people you loved with these natural and safe skin soap. They will know how much you care for them.
Making homemade soap is not difficult. We will do it together. Don't worry if you are a beginner. Once, you have mastered it then you may find it hard to stop!
Here you will find a very easy and simple recipes that I'd like to share with you:
Lavender soap balls
Lavender purple soap
Lavender Beeswax Soap
Let's start make our lavender soap!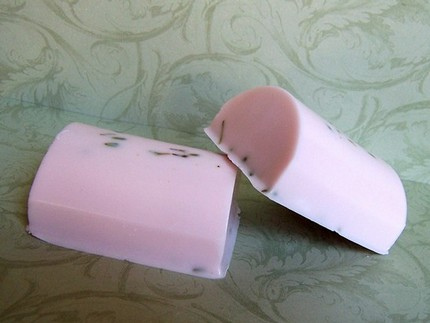 How To Make Lavender Soap Balls
Lavender soap balls can be made from lavender water and unscented, good quality soft white soap.
Grate a large bar into thin strips. Heat 60 ml of lavender water and pour over the soap.
Leave it for 10 minutes, stir , then place in a blender, adding 3 drops of lavender essential oils. Cool and pour into a pudding basin.
Leave 2-3 days or until the soap begins to dry out, then form into balls and place on a sunny windowsill to dry.
When almost dry, dip your hands in lavender water then rub the ball to make it smooth.
Want to make Lavender Water ? Click Here
How To Make Lavender Purple Soap
You will need:
4-6 cups of shredded base soap
1 cup whole milk
Lavender oil ( could be essential or fragrance oil )
Dried lavender buds
Purple liquid dye - Cosmetic grade colorants
1/2-1 teaspoon Vitamin E or Jojoba Oil
Instructions:
Put the base soap into a crock pot and add ½ cup of milk. Set it in a lowest temperature.
Stir the mixture, try not to make bubble. If it too dry, you can add more whole milk until all the base soap melted
After one hour , the mixture will looked like soft mashed potato. Then you can add vitamin E or jojoba oil.
Add color and add several drops of fragrance oil.
Sprinkle the dried herbs into the mixture. Stir all the ingridients, then pour into the molds.
For quicker cooling, place molds in the freezer for a few minutes then remove and continue cooling at room temperature.
Lavender Beeswax Soap
You need:
4 oz. Unscented clear glycerin soap
10 drops lavender essential oil
1 drop violet food coloring
1 tsp. Grated beeswax
Mold
Instruction:
Melt the soap over low heat until it liquefies. Add the grated beeswax and stir until it melts. Remove from heat and add the perfume oil and the coloring. Stir until it is well blended. Pour the mixture into a mold and let set for three hours or until it is hardened.
This Lavender Soap Recipe Created by soapnuts
Handmade soaps make great gifts and work very well in ritual baths. For gifts, you can consider putting a special item in the soap such as a charm or a crystal.
Other pages that you might find helpful
Aromatherapy Soap - This page contains easy instructions on how to make your own aromatherapy soap using melt and pour soap base.
---
Follow Aromatherapy at home
---
Free Download "7 Days Home Spa".
Finally! An Ebook about mini Home Spa that will make your body and beauty refresh. Create a relaxing home spa experience for yourself to melt away stress and leave you feeling pampered and relaxed.

Download "7 Days Home Spa" e-book


Back to Information about Lavender

Back to Aromatherapy and Essential Oils Information


---
Aromatherapy Blog | Advantages of Aromatherapy | Aromatherapy Essential Oil | Essential Oils and Their Usage | Aromatherapy Carrier Oils Information | Aromatherapy Blends Recipes | Aromatherapy Hydrosol | Aromatherapy Absolutes | Aromatherapy Candles | Aroma Diffusers | Aromatherapy for Weight Loss | Free Home Spa Ideas | Aromatherapy and Nature Crafts | Aromatherapy Pregnancy | Information About Lavender | Essential Oils for Respiratory System | Natural Ways to Deal with Stress | Aromatherapy Treatment | Aromatherapy for Pet | Chakra Essential Oils | Aromatherapy for Men | Health Benefits of Aromatherapy | Easy Homemade Gift Ideas | Aromatherapy for Women | Essential Oils Cheap or Sale | Aromatherapy Store | Fun Aromatherapy Stuff | Free Samples Aromatherapy | Aromatherapy Free Information | Aromatherapy Advice and Tips | Share Aromatherapy Recipes | Aromatherapy Videos | Aromatherapy Book Review | Aromatherapy Magazine | Aromatherapy Products Review | Aromatherapy Event | Aromatherapy Business Directory |
---