Make Lavender Flower Garden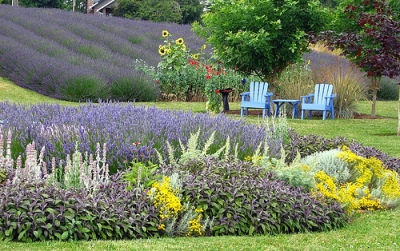 I love this picture! Although I've never been to lavender flower garden but I can smell the fragrance from here. It's so lovely that I can't wait to go there. Imagining myself being in the picture makes me feel happy. I guess I'm falling in love with lavender. If I could have only one plant in my garden, I would choose lavender.
Lavender is more than just a flower that gives an exquisite view to its surroundings. It also has the power to heal, not only for physical injuries but also for emotional stress.
To grow a lavender flower garden is very simple. Just follow the instructions and tips in lavender gardening page and you will be fine. Lavender plants are easy to plant. They can be planted almost any time, and even started indoors from seed.
Before you make a lavender flower garden, choose your flower first. As you can see there are many varieties of lavender. Ask yourself, why you want to create a lavender flower garden. Is it for making lavender oil, want to pick the buds and flowers to make a potpourri, or just to make a border of lavender so that you can smell its fragrance from your window?
For your information, the hardiest plants are English lavender and lavandins.
English lavender has the sweetest scent of all lavender, but grows poorly in hot, humid areas. While lavandins, can grow in a hot area. Lavandins are smaller plants, but often larger than English lavender when in bloom. Lavandins best for crafts and oils.
You can find lavender seed in local nursery or you can buy from our supplier.
What are the benefits when you already have lavender flower garden?
Lavender herbal tea has several benefits, such as keeping away germs and protecting the skin from further damage by encouraging healing. It also helps in reducing restlessness and difficulty in sleeping.
The essential oils in the lavender flower have a notable medicinal quality used in various types of treatment.
For a pillow filler you can use dried lavender flower cause the scent of the lavender flowers in your pillow will help relax your mind and also help induce a feeling of tranquil that will combat restlessness and fatigue.
For decorating the house. Re-cut the stems and place the bunch in a vase of fresh water. To get the most life and fragrance from the bunch, it's recommended to change the water every day. The bunch will last from 7 to 10 days depending on how many times you change the water and where you place the bunch.
Dried Lavender is good to make potpourri or fragrance sachets.
Species of lavender
There are many species of lavender. Did you know one species, English lavender, has over forty named varieties? In fact, there are over 200 varieties of lavender and 28 different species. Here are the most common species that people usually grow in their garden:
Lavandula angustifolia or English Lavender, has a large assortment of varieties. Colors range from whites and pinks to all shades of blue and purple. Lavandula angustifolia plants are typically small to medium sized and have a sweet to spicy scent.
English Lavender with scientific name L. Angustifolia is a flowering plant that is native to Southern Europe. Though this plant is termed "English" it is not locally cultivated in England. This Lavender specie is commonly used in fragrances and scent sachets.
Lavandula intermedia or lavandins are hybrids of Lavadula angustifolia and Lavadula latifolia. Cultivated for their high quality and quantity of lavender essential oil, popular lavandins include the Grosso," "Fred Boutin," and "Provence". Lavandin is a member of the Lavender genus that is commonly used to make lavender wands and other dried aesthetic arrangements due of its long spiky flora. This Lavender specie has a notable high essential oil content that is ideal in making soaps and desirable scents.
Woolly Lavender also known as L.Lanata can be an ideal ornamental plant. This lavender specie is drought-loving or tomentose. The leaves of this plant are remarkable for its woolly, silvery foliage and its flowers being spiky with a pale-blue color makes it a feast for the eyes. It still retains a beautiful appearance even with fading color to grey when drying up that even a gardener considers its leaves precious
Spanish Lavender is equally esteemed lavender specie that is highly regarded as a good component of scent sachets and also fragrances. Spanish lavender is ideal in scenting small spaces. It also does well in lacing areas with desirable aroma like balconies and patios.
Lavender Flower Picture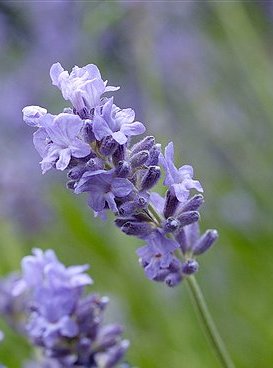 English Lavender - Munstead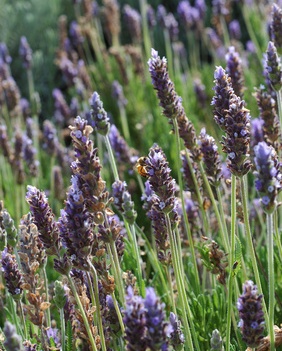 Lavandula Officinalis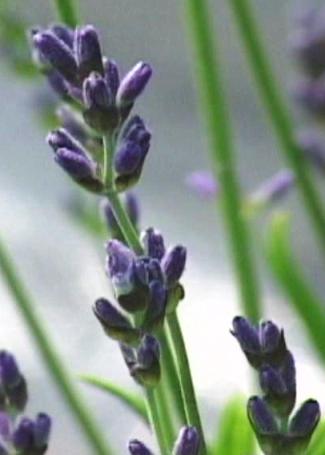 English Lavender - Hidcote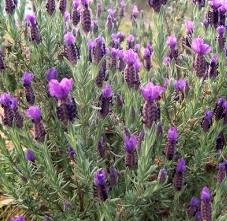 Spanish Lavender
More picture of Lavender Flower Garden
---
Follow Aromatherapy at home
---
Free Download "7 Days Home Spa".
Finally! An Ebook about mini Home Spa that will make your body and beauty refresh. Create a relaxing home spa experience for yourself to melt away stress and leave you feeling pampered and relaxed.

Download "7 Days Home Spa" e-book


From Lavender Flower Garden Return to Information About Lavender

Back to Aromatherapy and Essential Oils Information


---
Aromatherapy Blog | Advantages of Aromatherapy | Aromatherapy Essential Oil | Essential Oils and Their Usage | Aromatherapy Carrier Oils Information | Aromatherapy Blends Recipes | Aromatherapy Hydrosol | Aromatherapy Absolutes | Aromatherapy Candles | Aroma Diffusers | Aromatherapy for Weight Loss | Free Home Spa Ideas | Aromatherapy and Nature Crafts | Aromatherapy Pregnancy | Information About Lavender | Essential Oils for Respiratory System | Natural Ways to Deal with Stress | Aromatherapy Treatment | Aromatherapy for Pet | Chakra Essential Oils | Aromatherapy for Men | Health Benefits of Aromatherapy | Easy Homemade Gift Ideas | Aromatherapy for Women | Essential Oils Cheap or Sale | Aromatherapy Store | Fun Aromatherapy Stuff | Free Samples Aromatherapy | Aromatherapy Free Information | Aromatherapy Advice and Tips | Share Aromatherapy Recipes | Aromatherapy Videos | Aromatherapy Book Review | Aromatherapy Magazine | Aromatherapy Products Review | Aromatherapy Event | Aromatherapy Business Directory |
---