Free Aromatherapy Music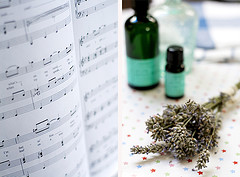 Download this free aromatherapy music, play it when you have an aromatic bath, light a candle or doing meditation /yoga. Apart from aromatherapy, music also has a place in promoting positive changes in the well being of an individual.
Music for aromatherapy and meditation is rhythmic music that is slow and soothing. This simple music sends signals to your body to relax. Your muscles relax. Your breathing slows and becomes deeper. Meditation music decreases your stress level and removes distractions.
Some Collections of Aromatherapy Music:
Russ Deane
" I have been writing meditation/background music for my own CDS which I do in conjunction with a Hypnotherapist and a Reiki Master."
Some of the music from him that I like :
Reflections
The Water is Wide
A Song of Peace
Silence
Day Dream
Download >>> Reflections by Russ Deane (size : 8,55 MB)
The Water is Wide.
This is a pretty old tune.
Download >>> The Water is Wide by Russ Deane (size : 4,62 MB)
Song of Peace ...
Peace throughout the world. Peace within us all............. Traditional Irish Melody. I am tired of all the sadness. I am tired of all the tears.
Download >>> A Song of Peace by Russ Deane (size : 6,27 MB)
Silence...
Download >>> Silence by Russ Deane (size : 6,08 MB)
Day Dream...
Download >>> Day Dream by Russ Deane (size : 7,61 MB)
Jiri Klokocka
The music of Jiri Klokocka builds on harmonies and melodies in classical style and rhythm from world music. The purpose is to help listeners to feel lucky.
Jiri is playing classical guitar, electric guitar, keyboards, drums and overtone song. He came out in the swedish broadcast at 1980 with his "Flowering Cherry-Tree".
I like " Palace of Peace and Love" by Jiri Klokocka. This music is a walk through the Palace of Peace and Love. You follow a long hallway, look in different chambers of this palace and experience these chambers special energies.
Download This song at "Jiri Klokocka" Website.
Instrumental Worship
Download >>> Restless by Instrumental Worship(size : 9,7 MB)
MANY THANKS! to above artist who give me permission to share their lovely music in my site. God Bless You All!
Update on Aug 21,2008
Free Aromatherapy Music Online Download
Listen and Play these free aromatherapy music online. Download them, I hope you'll like them.
These Free aromatherapy music are taken from VA - Aromatherapy (Complete 10 CD Collection Of Relaxation Music).
Here is the playlist:
1. Forest Awakening
4. Winter Spa
5. Green Apple
9. Dancing
10. Purple Touch
Listen to Forest Awakening.. My favorite ones
Forest Awakening - Aromatherapy Music Online Download.
---
Follow Aromatherapy at home
---
Free Download "7 Days Home Spa".
Finally! An Ebook about mini Home Spa that will make your body and beauty refresh. Create a relaxing home spa experience for yourself to melt away stress and leave you feeling pampered and relaxed.

Download "7 Days Home Spa" e-book


From Free Aromatherapy Music Back to Aromatherapy Stuff

Back to Aromatherapy and Essential Oils Information


---
Aromatherapy Blog | Advantages of Aromatherapy | Aromatherapy Essential Oil | Essential Oils and Their Usage | Aromatherapy Carrier Oils Information | Aromatherapy Blends Recipes | Aromatherapy Hydrosol | Aromatherapy Absolutes | Aromatherapy Candles | Aroma Diffusers | Aromatherapy for Weight Loss | Free Home Spa Ideas | Aromatherapy and Nature Crafts | Aromatherapy Pregnancy | Information About Lavender | Essential Oils for Respiratory System | Natural Ways to Deal with Stress | Aromatherapy Treatment | Aromatherapy for Pet | Chakra Essential Oils | Aromatherapy for Men | Health Benefits of Aromatherapy | Easy Homemade Gift Ideas | Aromatherapy for Women | Essential Oils Cheap or Sale | Aromatherapy Store | Fun Aromatherapy Stuff | Free Samples Aromatherapy | Aromatherapy Free Information | Aromatherapy Advice and Tips | Share Aromatherapy Recipes | Aromatherapy Videos | Aromatherapy Book Review | Aromatherapy Magazine | Aromatherapy Products Review | Aromatherapy Event | Aromatherapy Business Directory |
---