Essential Oils for Candle Making
Introduction on Essential Oils for Candle Making
Candles have a long history to enhance the look of your room, even a plain pillar candle can be used to make a gorgeous table decorations.
In addition to have its function as decoration why not adding another benefit to it? By using essential oils for candle making, we can make aromatherapy candles which have a physiological and therapeutic effect on us through their scent.
Aromatherapy candles are becoming increasingly popular and many people are looking at making them on their own. They make aromatherapy candles for themselves, or as gifts for friends and family.
For every mood and moment, there is an aromatherapy candle.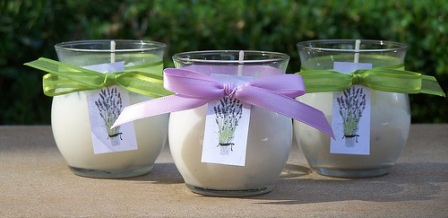 List of Essential Oils
These are some essential oils for candles making:
Lavender: A very sweet and subtle oil with can help you overcome insomnia and makes you relax.
Chamomile: There are 2 kind of chamomile oil, roman and german chamomile. Both of them has similar effect in creating your peaceful mind.
Rosemary: Great to uplift your energy. Centering you mind to make you more creative.
Grapefruit: A Refreshing oil which good for cheer you up
Eucalyptus: A very potent oil and usually used to deal with respiratory problems and build our immune system
Ylang Ylang: usually used as aphrodiasiac essentisl oils, and for your mind it can induce relaxation which leads you to have a better sleep
Geranium: Great to use for female hormonal imbalance such as to help us overcome PMS. For your mind, uplifting your mood and relaxing too.
Peppermint: Great for treating digestive disorder and migraine headaches.
Lemon: Purifying and stimulating to induce joy feeling and helps relax the senses.
If you have a particular scent that you like you may use candle and fragrance oil to replace these essential oils. But you should keep in mind that these fragrances oils are only for smelling scent not for therapeutic benefits. Here are some candle and fragrance oils that are available: Vanilla Musk, Tahitian Gardenia, Strawberry, and some fragrance dupee from Victoria's secret, Crabtree & Evelyn, and others.
You can make your own aromatherapy candles too at your home, by using essential oils for candle making and check my aromatherapy candle recipes!
Here are some tips on how to make aromatherapy candles:
Use natural ingredient such as: beeswax, soy wax, or palm wax for making the candles, instead of paraffin, which contain carcinogenic chemicals
Natural wick such as zinc or cotton is better than metalized wick, most places has banned the use of this wick, but some countries still allow it.
For coloring, instead using chemical colorant like dye, it is better you add them with flower petals or natural herbs. The color will be more natural
Remember to use essential oils not fragrance oil.
To make your candle's scents preserve, you need to add essential oils into wax after it melted and begin to cool down. As you know that essential oils evaporate when exposed too much to heat so make sure the temperature is right
Last, to make the candle's appearance more appealing you can decorate it with shell
---
Follow Aromatherapy at home
---
Free Download "7 Days Home Spa".
Finally! An Ebook about mini Home Spa that will make your body and beauty refresh. Create a relaxing home spa experience for yourself to melt away stress and leave you feeling pampered and relaxed.

Download "7 Days Home Spa" e-book


Back to Aromatherapy and Essential Oils Information


---
Aromatherapy Blog | Advantages of Aromatherapy | Aromatherapy Essential Oil | Essential Oils and Their Usage | Aromatherapy Carrier Oils Information | Aromatherapy Blends Recipes | Aromatherapy Hydrosol | Aromatherapy Absolutes | Aromatherapy Candles | Aroma Diffusers | Aromatherapy for Weight Loss | Free Home Spa Ideas | Aromatherapy and Nature Crafts | Aromatherapy Pregnancy | Information About Lavender | Essential Oils for Respiratory System | Natural Ways to Deal with Stress | Aromatherapy Treatment | Aromatherapy for Pet | Chakra Essential Oils | Aromatherapy for Men | Health Benefits of Aromatherapy | Easy Homemade Gift Ideas | Aromatherapy for Women | Essential Oils Cheap or Sale | Aromatherapy Store | Fun Aromatherapy Stuff | Free Samples Aromatherapy | Aromatherapy Free Information | Aromatherapy Advice and Tips | Share Aromatherapy Recipes | Aromatherapy Videos | Aromatherapy Book Review | Aromatherapy Magazine | Aromatherapy Products Review | Aromatherapy Event | Aromatherapy Business Directory |
---