Essential Oils Recipes
Some collection of essential oils recipes from Mountain Rose Herbs
Here are some collection of essential oils recipes from mountain rose herb. I have collected several. Hope you will like them. And All of these ingredient are available at Mountain Rose Herb.
Mountain Rose Herb Since 1987 has consistently delivered exceptional quality certified organic products with a strict emphasis on sustainable agriculture through Oregon Tilth Certified Organic which is fully accredited with the USDA National Organic Program.
From the herbs we offer, to the teas we process and the oils we have distilled. Organics have proven their superiority in flavor and taste.
We hope you and your family have enjoyed these benefits as much as we have.
From all of us at Mountain Rose Herbs "We wish you a happy and fruitful life."
Buy Organic Products at Mountain Rose Herb with Confidence!
Eau de Cologne
Makes 4 ounces
The original recipe contained citrus oils including lemon, orange, tangerine, bergamot, lime, grapefruit and neroli. It also contained lavender, rosemary, thyme and jasmine. Although today you can purchase Eau de Cologne made by the Farina family according to the original recipe, you also can make your own lightly scented cologne using any combination of your favorite essential oils.
You will need:
1/4 cup vodka or witch hazel
1/4 cup water
2 to 3 drops favorite essential oil or a mixture of citrus, lavender, rosemary, thyme and jasmine

Mix all ingredients together and pour into a clean bottle.

Essential Oils Recipes :Lavender Water Voile

Makes 2 ounces

The word voile is French for veil, and is used to describe something that is very light and delicate. When used to describe fragrance, a voile is gentle and soft, just a whisper of fragrance on your skin.You could also use a different favorite floral scent in this recipe, such as frangipani or jasmine.

You will need:

1/4 cup filtered or distilled water
1/8 teaspoon castor oil
6 to 8 drops lavender essential oil
Mix together all ingredients and stir well. Pour into a clean container with a tight-fitting lid.
Essential Oils Recipes : Chamomile-Rose Replenishing Eye Oil
The skin around the eyes is fragile and benefits from light and moisturizing treatments. Chamomile (Matricaria recutita) and Rose (Rosa spp.) essential oils are anti-inflammatory and restorative for this delicate area.
You will need:
5 drops Chamomile essential oil
5 drops Rose essential oil
1 ounce Jojoba oil
Combine essential oils with Jojoba oil and store in a one-ounce glass bottle with a dropper top.
To use the oil, cleanse your face and leave your skin slightly damp. Apply 2 drops of the oil to your ring finger (you'll apply less pressure with this finger than with your index finger), and with a gentle tapping motion, smooth the oil beneath your eye and onto the area just beneath the brow bone.
Do not apply oil directly to your eyelids, as it can migrate into your eyes and cause irritation.
See Other use of Chamomile Essential Oils
Essential Oils Recipes : Citrus Bliss Perfume Blend
You will need :

6 drops grapefruit
5 drops lavender
3 drops tangerine
1 drop ylang ylang
Combine 15 drops of your essential oil blend with one ounce of vodka in a glass bottle and shake well. Ideally, allow your perfume to sit in a cool, dark place for a couple of weeks before using it, which allows time for the essential oils to meld together and results in a rich, complex blend. For ease of application, store your perfume in a small glass bottle with an atomizer top.
If you prefer an oil-based perfume, you can add 15 to 30 drops of your essential oil blend to one ounce of jojoba oil in a glass bottle and shake well. An oil-based perfume can be used immediately. Apply a drop or two to pulse points at your wrists and neck.
Get more Tips on Making Perfume using Essential oils.
Essential Oils Recipes : Oasis Body Scrub
Create an all natural body scrub scented with exotic oils of Rose and Frankincense! Body scrubs are easy to make and can be adapted to include your favorite scents and ingredients. Whip up a batch within minutes and your skin will thank you! Salt is an excellent body scrub; almonds and honey help to moisturize while smoothing skin.
1-2 cup finely ground almonds
1-2 cup sea salt
2 tablespoons almond oil
2 tablespoons liquid honey
5 drops frankincense essential oil
5 drops rose essential oil
Mix all ingredients together in a small unbreakable container. Wet your body in a warm shower, and apply the scrub to your legs, arms and torso. Massage into your skin with a circular motion, rinse well and pat your skin dry. The oil in this body scrub makes the tub slippery, so use a rubber tub mat to prevent falls. Busy to make your own? Why don't you try "Apricot kernel meal".
Essential Oils Recipes : Lavender Orange Hand Cream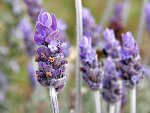 This easy recipe makes a rich hand cream:
3 tablespoons jojoba oil
1 tablespoon mango butter
1 tablespoon grated beeswax
1/4 cup rosewater (or filtered water)
10 drops lavender essential oil
5 drops sweet orange essential oil
Warm jojoba oil, mango butter and beeswax gently over low heat until beeswax melts. Remove from heat. Warm rosewater over low heat. Remove from heat. When both mixtures are lukewarm, slowly pour liquid into oil, beating steadily with a wire whisk or an electric beater set on the lowest speed until cool, thick and smooth. Stir in essential oils. Spoon cream into a clean jar and let cool before covering.
Peppermint Cocoa Lip Balm
Lip balm is truly one of the easiest and most inexpensive products to create. Once that you have created your own homemade lip balm, you will never want to purchase commercially made lip balm again!
This recipe will fill 8-9 lip balm tubes
1 Tablespoon Cocoa Butter
2 Tablespoons Sweet Almond Oil
1 Tablespoon Olive Oil
1 Tablespoon & 1 teaspoon Beeswax
5-10 drops Peppermint essential oil
Coarsely chop or grate beeswax (vegans may use Carnauba or Candelilla Wax as an alternative). Place wax, butter, and oil in a double boiler, and melt gently over low-medium heat. Once that the beeswax/oil mixture has melted, remove from burner, and add essential oils. Immediately pour the mixture into lip balm containers. Allow to cool completely before placing the caps onto your lip balm containers.
Click Here to find out other benefits of Peppermint Oil.
Other pages you may find helpful:
Aromatherapy formula recipes for healthy mouth
Article courtesy of Mountain Rose Herbs
---
Follow Aromatherapy at home
---
Free Download "7 Days Home Spa".
Finally! An Ebook about mini Home Spa that will make your body and beauty refresh. Create a relaxing home spa experience for yourself to melt away stress and leave you feeling pampered and relaxed.

Download "7 Days Home Spa" e-book


From Essential Oils Recipes Back to Aromatherapy and Essential Oils Information

Back to Aromatherapy and Essential Oils Information


---
Aromatherapy Blog | Advantages of Aromatherapy | Aromatherapy Essential Oil | Essential Oils and Their Usage | Aromatherapy Carrier Oils Information | Aromatherapy Blends Recipes | Aromatherapy Hydrosol | Aromatherapy Absolutes | Aromatherapy Candles | Aroma Diffusers | Aromatherapy for Weight Loss | Free Home Spa Ideas | Aromatherapy and Nature Crafts | Aromatherapy Pregnancy | Information About Lavender | Essential Oils for Respiratory System | Natural Ways to Deal with Stress | Aromatherapy Treatment | Aromatherapy for Pet | Chakra Essential Oils | Aromatherapy for Men | Health Benefits of Aromatherapy | Easy Homemade Gift Ideas | Aromatherapy for Women | Essential Oils Cheap or Sale | Aromatherapy Store | Fun Aromatherapy Stuff | Free Samples Aromatherapy | Aromatherapy Free Information | Aromatherapy Advice and Tips | Share Aromatherapy Recipes | Aromatherapy Videos | Aromatherapy Book Review | Aromatherapy Magazine | Aromatherapy Products Review | Aromatherapy Event | Aromatherapy Business Directory |
---