Essential Oils for Yoga
Single use of essential oils for yoga
Essential oils are naturally derived essence which is extracted from plants and used for their cleansing, healing and medical properties.
When we smell a scent of nature, the olfactory nerves in our brain cause various psychological and physiological effects including relieving of tension, relaxing the body and mind and even curing ailments.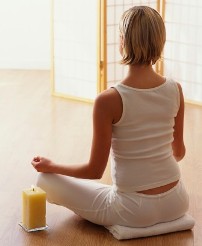 Essential Oils for Yoga
Each essential oil yielding plant is different and they all have a unique 'therapeutic signature'.
Essential oils have many uses and are often used as a 'scent tool' to compliment yoga exercises.
The main oils for this purpose are eucalyptus, juniper, lavender, orange, rosemary, rosewood, tea tree and thyme which I will go through in more detail below. These oils are selected due do their calming, antiseptic, antibiotic and diuretic properties.
Essential Oils for Yoga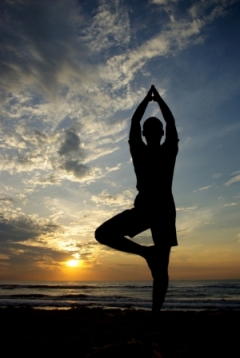 Essential Oils for Yoga
Eucalyptus
This oil is commonly known as a decongestant for blocked noses and colds due to its antiviral and antibacterial qualities. It helps cell regeneration, circulation and controls skin oiliness as well as helping to stabilise blood sugar levels and reducing rheumatism pain.
In yoga: In a spray bottle, add 4oz of water to 25 drops of eucalyptus oil. Use this to disinfect and clean your mat after class. If you have stiff joints, add 30 drops of the oil to 2 tablespoons of carrier oil such as jojoba, olive or vegetable oil and massage in to affected area.
Juniper
This infection fighting oil is also a diuretic and antiseptic. It helps with skin problems such as dermatitis and eczema and is very good for detoxifying. However it should not be used during pregnancy and because it activates the kidneys, you should also consult your doctor if you suffer from kidney problems.
In yoga: To help you have an energised and more focused class, inhale the oil directly from the bottle, first in one nostril and then the other. If you suffer from dermatitis, eczema or heat rash, add 20 drops of oil to 2 tablespoons of carrier oil (as above) and massage into affected areas.
Lavender
Is one of the more common oils and is well known for its therapeutic properties as it helps to calm nerves, alleviate depression, aids sleep, stimulates cell growth, fights infection and lowers blood pressure as well as reducing congestion, inflammation, pain and muscular spasms.
In yoga: In a spray bottle, add 15 drops of lavender oil to 2oz of water. Spray this over your face and crown chakra at the end of meditation or Savasana session to revitalise yourself. There are over 100 other uses including room freshener, de-stresser oil and massage oil.
Orange
This oil aids with fighting infection, improving immunity, reducing inflammation, stimulating lymphatic circulation, relieving muscular spasms and digestive issues. However, it may irritate skin and cause photosensitivity therefore you should not go out into the sun after applying the oil.
In yoga: To remove residue from your mat and get a sense of positivity, add 15 drops of the oil to a cloth and massage into the mat. To extend this prana energy, lift depression and increase conversation, add 20 drops of orange oil to 4oz water and use as a room spray.
Rosemary
This oil improves the workings of the body including the heart, circulatory and nervous system. It stimulates the adrenal glands, liver, gall bladder and general nerve health. It should be avoided if you have high blood pressure and it may irritate sensitive skin or cause epileptic seizures in prone individuals.
In yoga: Before class, massage about 10 drops into your abdomen and 3 drops into your temples (sides of forehead) which will aid circulation, awareness and focus. To enhance circulation, add 15 drops of the oil to 2 tablespoons of carrier oil and massage over arms and ankles in the direction of the heart using upward strokes.
Rosewood
This oil also helps to lift the mood and reduce depression as well as helping to relieve pain, stimulating the sex drive, reducing skin conditions and fighting infection. It also encourages brain activity and clears the head.
In yoga: This delightfully fragrant oil is ideal to diffuse during classes/exercise. Add 15 drops of rosewood oil to a candle or electric diffuser and allow the scent to envelop the room. To ease ligaments and muscles after a class, add 10 drops of the oil to 2 tablespoons and massage in.
Tea Tree
This is another more common il known for its antiseptic properties and ability to reduce spots, heal wounds and soothe skin disorders. It also builds immunity, fights infection and helps to relieve respiratory/mucous congestion. Another use is to fight fungi (nail or foot) and athlete's foot and even to kill insects. It may however, be an irritant to sensitive skin.
In yoga: To clean and disinfect your mat, spray with a mixture of 20 drops of the oil added to 4oz of water after class.
Thyme
This oil can help to ease muscular and arthritic pain, improve the digestion process, prevent infections and boost immunity. It can relieve respiratory and urinary tract issues, improve lung functioning and circulation and get rid of coughs. It can also help with mental states such as emotional fatigue, stress and nervousness as well as by regulating skin oiliness and other skin conditions. This oil should be avoided during pregnancy or if you have high blood pressure or hyperthyroidism. It can stimulate menstrual flow and irritate skin and mucous membranes.
In yoga: This oil is another one that is ideal to diffuse during yoga sessions; just add 10 drops to a candle or electric diffuser and allow it to fill the room. It is also very good as an air freshener especially if you have respiratory problems. To heal cuts and bruises or disinfect wounds, add 3 or 4 drops of thyme oil to a cup of water and massage in to affected area.
Recommend products that contain essential oils for yoga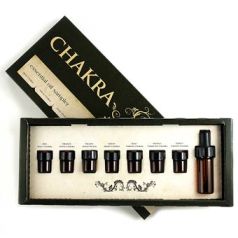 chakra kit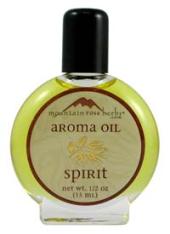 Spirit Oil
Other than those products, I found a great calming blends that contain lavender, orange and eucalyptus which I've mention in essential oils for yoga above, This is one of our best selling products
If you want to know other uses of each essential Oils for yoga that mention here, you can goto profile of essential oils
Related posts:
Aromatherapy Meditation Blends - For relaxation doing meditate
---
Follow Aromatherapy at home
---
Free Download "7 Days Home Spa".
Finally! An Ebook about mini Home Spa that will make your body and beauty refresh. Create a relaxing home spa experience for yourself to melt away stress and leave you feeling pampered and relaxed.

Download "7 Days Home Spa" e-book

From Essential Oils for Yoga Back to chakra essential oils

Back to Aromatherapy and Essential Oils Information


---
Aromatherapy Blog | Advantages of Aromatherapy | Aromatherapy Essential Oil | Essential Oils and Their Usage | Aromatherapy Carrier Oils Information | Aromatherapy Blends Recipes | Aromatherapy Hydrosol | Aromatherapy Absolutes | Aromatherapy Candles | Aroma Diffusers | Aromatherapy for Weight Loss | Free Home Spa Ideas | Aromatherapy and Nature Crafts | Aromatherapy Pregnancy | Information About Lavender | Essential Oils for Respiratory System | Natural Ways to Deal with Stress | Aromatherapy Treatment | Aromatherapy for Pet | Chakra Essential Oils | Aromatherapy for Men | Health Benefits of Aromatherapy | Easy Homemade Gift Ideas | Aromatherapy for Women | Essential Oils Cheap or Sale | Aromatherapy Store | Fun Aromatherapy Stuff | Free Samples Aromatherapy | Aromatherapy Free Information | Aromatherapy Advice and Tips | Share Aromatherapy Recipes | Aromatherapy Videos | Aromatherapy Book Review | Aromatherapy Magazine | Aromatherapy Products Review | Aromatherapy Event | Aromatherapy Business Directory |
---