Dried Lavender Flower
Here are some ideas for you to use your dried lavender flower:
Make a lavender crafts such as lavender pot pourri, lavender sachets and lavender wand.
Make a lavender herbal tea
For batherapy lavender
Make a lavender pillow
For fragrance the house by burning dried lavender flower like incense sticks or burning them on the fire place for their wonderful fragrance.
How To Dry Lavender
Many people tell that they dry their lavender and that the fragrance lasts for many months. The key is the faster lavender dries, the better is the preserved the color and the fragrance.
It all depends on harvesting lavender. The right time is in the dry weather (some people says that fall season would be better) when the flower stalks contain less water so the drying process would be shortened.
Just remember that the stalks will be shrunk once they dry, so bundle small bunches together with rubber bands and hang the bunch upside down away from direct sunlight. Keep it in a cool and dark place. The more air movement the better, as it will dry sooner. You might want to place a sheet or towel underneath to catch any falling flowers.
Depending on the humidity, they should take 1-3 weeks to dry. Once dry the bunch can be held upright if you wish.
A great place to hang your lavender is in your closet. The bunch will dry nicely and your clothes will smell great.
Lavender Crafts
Dried Lavender Flower
You can find the recipes and step by step instructions on How To Make Lavender Pot pourri and Lavender Sachet Bags in nature crafts section.
How To Make Lavender Wands
An old fashioned lavender wand, a possy like bunch of lavender with the flower heads wrapped in a tightly woven ribbon, is also used to scent drawers and wardrobes.
Form freshly picked lavender into bunches of 7,9,11, or 13 stems and place at 90 cm ribbon in the center, allowing it to extend 22 cm above the flower heads.
Then carefully bend the stalks back down over the flower heads and weave the long end of the ribbon horizontally between the stalks.
Work from top down until the flower heads are covered, and then tie the two ends into a bow.
Watch the video:
Lavender Herbal Tea
Lavender herbal tea provides a lot of benefit to our body. Drinking lavender herbal tea can soothe upset stomachs and eases up bowel movements and the headaches.
Cool lavender herbal tea is also effective for mouthwash as it not only leaves a wonderful scent but also draws a smile on the face.
Warm lavender herbal tea can be a compress for treating chest congestion. Just place a warm compress of the tea on top of the chest.
Inhaling the steam of a hot lavender herbal tea can help us to clear the nasal tract from the nose to the lungs.
It's very easy to make a lavender herbal tea. Immerse two tablespoons of dried lavender flower in one liter of hot water.
Batherapy Lavender
This flower's soothing properties are very well known for people who are stressed. Soaking in lavender scented bath is extremely comforting and rejuvenating. While cleansing and energizing the skin, the stress from a hard day at the work will be washed away. This flower is commonly used to help people sleep better and be refreshed the next day.
Place 4 tablespoons of dried lavender flower in a muslin bag with a spoonful of Epsom salts. Hang the bag under the hot tap water, looped on a long string and place it directly in the water. Dry between used and discard when the scent fades.
For more recipes on batherapy lavender, you can check Lavender for Bath.
Organic Dried Lavender Flower
Lavender Pillow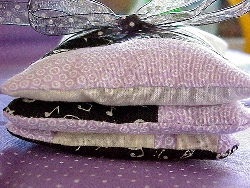 Lavender pillow helps you to sleep while giving a delightful fragrance. They are traditionally filled with various combinations of dried lavender, rosemary, chamomile, spearmint, marjoram and thyme. Place them under your ordinary pillow.

How To Make Lavender Pillow.
Sew 6 inches square of fabric on the three side. For the fourth side. Sew part of the fourth side, leaving a two to three inch opening in the center of the fourth side. This will be where you pour the lavender in. Use a needle and thread to sew your opening close.
Don't sew the fourth side completely. This will make it easy for you to replace the dried lavender flower when it's not fragrant anymore or you can renew the scent by adding 1-2 drops of lavender essential oils.
I found this article from Times Online by Dr Toby Murcott
Lavender oil on your pillow
What is it? An oil distilled by passing steam through large quantities of mature lavender (Lavandula augustifolia) flower heads.
Does it work? A 2005 pilot study of ten volunteers suggested that it might. A larger study last year on 43 student nurses found that it eased anxiety and reduced insomnia.
Lavender Neck Pillow
The use of lavender neck pillow is a good way of enjoying the benefits of aromatherapy plus the relaxation provided by the flora. The design of this product is perfect and is stable just right around the neck and shoulders providing additional moist muscle therapy.
This neck pillow can be used as either warm or cold compress. It can be heated in a microwave and or freeze it in the fridge. Either way, this product may be prepared to suit the appropriate moist muscle therapy intervention required by you. This neck pillow is best for plane rides so you are able to enjoy its benefits during the long trip.
Removable insert of flaxseed and lavender. Soft, washable covers. Just what you need to relax, recharge and revitalize
Recommend Book
"Making Herbal Dream Pillows" by Jim Long.

This book has 63 pages of goodness in creating herbal-scented pillows for an improved sleeping. The use of these recipes will conjure good memories of the past that will be a delightful and nostalgic thought for you. This book is easy to understand and it is simple!
Discover the secret of pleasure dream.
Watch the Video - How to make Lavender Wreath
---
Follow Aromatherapy at home
---
Free Download "7 Days Home Spa".
Finally! An Ebook about mini Home Spa that will make your body and beauty refresh. Create a relaxing home spa experience for yourself to melt away stress and leave you feeling pampered and relaxed.

Download "7 Days Home Spa" e-book


From Dried Lavender Flower back to Information About Lavender

Back to Aromatherapy and Essential Oils Information


---
Aromatherapy Blog | Advantages of Aromatherapy | Aromatherapy Essential Oil | Essential Oils and Their Usage | Aromatherapy Carrier Oils Information | Aromatherapy Blends Recipes | Aromatherapy Hydrosol | Aromatherapy Absolutes | Aromatherapy Candles | Aroma Diffusers | Aromatherapy for Weight Loss | Free Home Spa Ideas | Aromatherapy and Nature Crafts | Aromatherapy Pregnancy | Information About Lavender | Essential Oils for Respiratory System | Natural Ways to Deal with Stress | Aromatherapy Treatment | Aromatherapy for Pet | Chakra Essential Oils | Aromatherapy for Men | Health Benefits of Aromatherapy | Easy Homemade Gift Ideas | Aromatherapy for Women | Essential Oils Cheap or Sale | Aromatherapy Store | Fun Aromatherapy Stuff | Free Samples Aromatherapy | Aromatherapy Free Information | Aromatherapy Advice and Tips | Share Aromatherapy Recipes | Aromatherapy Videos | Aromatherapy Book Review | Aromatherapy Magazine | Aromatherapy Products Review | Aromatherapy Event | Aromatherapy Business Directory |
---