Cajeput Essential Oils
Properties, Characteristics and Uses
of Cajeput Essential Oils in Aromatherapy
Botanical name : Melaleuca cajuputi.
Origin : Indonesia.
Scent : Camphorous fragrance, with a fruity scent.
Note : Top.
This essential oil is extracted from the leaves and twigs by steam distillation.
Blends well with Bergamot, Lemon, Geranium, Black Pepper, Ginger, Nutmeg, Thyme, Pine Needle, Hyssop, Spike Lavender, Myrtle, Niaouli, Peppermint, Rosemary and Tea Tree.
The latin name of Cajeput is Melaleuca cajuputi, because in Indonesia the tree itself is called kayu putih. But sometimes people say "Melaleuca leucadendron".
Benefits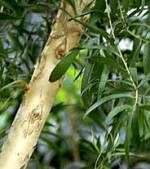 The oil has antiseptic property and the aroma derived from it is similar to what is smelt from eucalyptus.
Notably this herb has high terpene content. With these very useful attributes it has been used to treat many of the cases related to the respiratory tract that includes cold, bronchitis, flu and other related conditions.
In the treatment of these, the normal route this essential oil is applied is through inhalation. It may also be used as a salve component for chest rubs; combined with other materials for dilution and added volume.
The essential oil may be useful in treating throat infection by applying it with the hot compress that is composed of water, fatty oil or healing earth with a ten percent ratio.
It can be used as an intervention for Urinary Tract Infection as well due of its strong antiseptic quality that is good for disinfection.
Cajeput essential oil may also be used in compresses for gastro-intestinal related conditions like loose bowel movement, gastroenteritis, and anxiety induced vomiting.
It has proven effective in treating parasitic proliferation like those under the families Oxyurdae and Ascaridae.
It can be used a component to liniments as well that is best when applied to affected areas for rheumatism, earache, neuralgia and toothaches.
For toothaches, a 10% ratio to carrier oil will be good enough. Also for earache, a 50% ratio with St.-John-Wort oil should do the trick. Simply apply the combination to the outer ear after mixing.
And due of its antiseptic quality it has been used to treat psoriasis and other skin condition like Acne.
This oil type is a major component of Olbis oil. This concoction makes the Cajeput oil more versatile for combining with other essential oils like wintergreen, juniper, mint, eucalyptus and clover.
Cautions
May cause skin irritation., external use only, avoid contact with eyes. Care is advisable in pregnancy.
Buy Essential Oils
Buy this essential oils from reputable supplier. Make sure you get organic essential oils. Prices are vary from 1/2 oz to 16 oz.
Buy Cajeput Essential Oils
And don't forget to check out if we have a discount deal for this essential oils. Click here to find more about cheap essential oils
How To Use
Find Essential Blend Recipes using this essential oils within this site.


Back to Essential oils and Their Usage

Back to Aromatherapy and Essential Oils Information


---
Aromatherapy Blog | Advantages of Aromatherapy | Aromatherapy Essential Oil | Essential Oils and Their Usage | Aromatherapy Carrier Oils Information | Aromatherapy Blends Recipes | Aromatherapy Hydrosol | Aromatherapy Absolutes | Aromatherapy Candles | Aroma Diffusers | Aromatherapy for Weight Loss | Free Home Spa Ideas | Aromatherapy and Nature Crafts | Aromatherapy Pregnancy | Information About Lavender | Essential Oils for Respiratory System | Natural Ways to Deal with Stress | Aromatherapy Treatment | Aromatherapy for Pet | Chakra Essential Oils | Aromatherapy for Men | Health Benefits of Aromatherapy | Easy Homemade Gift Ideas | Aromatherapy for Women | Essential Oils Cheap or Sale | Aromatherapy Store | Fun Aromatherapy Stuff | Free Samples Aromatherapy | Aromatherapy Free Information | Aromatherapy Advice and Tips | Share Aromatherapy Recipes | Aromatherapy Videos | Aromatherapy Book Review | Aromatherapy Magazine | Aromatherapy Products Review | Aromatherapy Event | Aromatherapy Business Directory |
---