Aromatherapy Soap
How to make an aromatherapy soap
using melt and pour soap base
When it comes to making a handmade soap, for me melt and pour method is the easiest and the most practical way to do it.
When I had a lot of time during our Christmas holidays last year, I tried some recipes from "Relax to the Max" by Rosevita Warda and I love the smell of them.
It's good if you have a fancy mold to go with it, but if you don't have like I do then you can them make with a square or circle mold. That's fine.
Here is the recipe that I like and want to share with you:
Bombshell's Secret Weapon
The blend of peppermint and orange will make you feel refreshed and ready to go.
Materials:
6 ounces clear glycerin soap base
3 drops blue colorant
3 drops green colorant
10 drops peppermint essential oils/fragrance oil
15 drops sweet orange essential oils/fragrance oil
2 clamshell molds, 3 ounce each with embossed starfish.
Instructions:
Place the soap base into the heat resistant glass measuring cup and microwave for 10 to 20 minutes. If you want to melt in double boiler on the stove, adjust the heat to keep the soap at a constant liquid point. Do not let the soap heat for more than 10 minutes. I use microwave to melt the soap, you can start at 10 minutes first and see if the base has already melted. Usually the glycerin soaps have a melting point between 135 F and 145 F


Melt the remaining whole soap pieces by stirring lightly after taking it out of the heat, either microwave or stove.


Add the colorant and stir gently, If the soap starts to solidify the remelt it.


Add the essential oils or the fragrance oils. Add drop by drop at a time until the desired level of scent is achieved.


Pour 1 ounce of the soap into the embossed areas of the mold immediately.


Let it harden a bit, then take a plastic and scrape away any soap that spilled over and out of embossed area.


Pour the remaining melted soap in the molds immediately


The mixture must be allowed to sit and cool before removing from the mold. For quicker setting you may put the mold holding the mixture in the fridge. When completely set the soap will be easy to take out of the mold.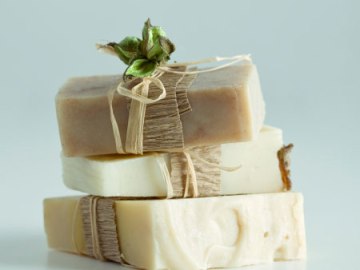 Some Tips:
If you can't find clear glycerin base soap you can replace it with white coconut oil base.
Use cosmetic grade colorant to make the soap. They can be found at crafts store. They are available as both solids and liquids
It's recommended to use high heat plastic soap molds. Be careful when choosing plastic molds, some can't take the high temperatures of the melted soap and can melt and collapse causing spill
If you still find it difficult to release the soap then try placing it in the freezer for 10 minutes and try again
If you don't have the clamshell molds with embossed starfish, here are few ideas of how you can make your own aromatherapy soap designs:
Here's an idea on How to make a star aromatherapy soap
All the photos are taken from flickr.com. Photos credit to soapylovedeb, naiadsoaparts and Izzi-creative
Aromatherapy Soap Making Kit

Vegetable Glycerin - Suitable for Children
Other pages that you might find helpful:
Make your own Lavender Soap - Lavender soap is very popular among the soapmakers. It is not only because of its lovely and soothing scent. It can relieve depression and stress. Lets start make our lavender soaps!
---
Follow Aromatherapy at home
---
Free Download "7 Days Home Spa".
Finally! An Ebook about mini Home Spa that will make your body and beauty refresh. Create a relaxing home spa experience for yourself to melt away stress and leave you feeling pampered and relaxed.

Download "7 Days Home Spa" e-book


From aromatherapy soap back to aromatherapy blends recipes

Back to Aromatherapy and Essential Oils Information


---
Aromatherapy Blog | Advantages of Aromatherapy | Aromatherapy Essential Oil | Essential Oils and Their Usage | Aromatherapy Carrier Oils Information | Aromatherapy Blends Recipes | Aromatherapy Hydrosol | Aromatherapy Absolutes | Aromatherapy Candles | Aroma Diffusers | Aromatherapy for Weight Loss | Free Home Spa Ideas | Aromatherapy and Nature Crafts | Aromatherapy Pregnancy | Information About Lavender | Essential Oils for Respiratory System | Natural Ways to Deal with Stress | Aromatherapy Treatment | Aromatherapy for Pet | Chakra Essential Oils | Aromatherapy for Men | Health Benefits of Aromatherapy | Easy Homemade Gift Ideas | Aromatherapy for Women | Essential Oils Cheap or Sale | Aromatherapy Store | Fun Aromatherapy Stuff | Free Samples Aromatherapy | Aromatherapy Free Information | Aromatherapy Advice and Tips | Share Aromatherapy Recipes | Aromatherapy Videos | Aromatherapy Book Review | Aromatherapy Magazine | Aromatherapy Products Review | Aromatherapy Event | Aromatherapy Business Directory |
---