Aromatherapy Pregnancy
Find more information on
Aromatherapy pregnancy and the benefits of it.
The Benefits of Aromatherapy in Pregnancy
There are ways to enjoy aromatherapy while you are in pregnancy, after delivery and for your newborn baby. And they are listed below:
Manage the stress you're undergo while pregnancy
Helps you to relax, has positive thinking. these qualities will greatly help especially in child-bearing or child care. A pregnant woman who is relaxed is more likely to manage labor and subsequently bond with her child after birth.
Ease tiredness, fatigue, pain and other ailments that result from pregnancy
Aromatherapy should be an effective support for what is learned at prenatal classes. Those who use the aromatherapy will more get benefit of the relaxation techniques.
Essential oils for cellulite will help the pregnant women prevent the strecth marks by keeping the skin well nourished.
The use of essential oils will also aid the pregnant mother to be in constant contact with their bodies that is beneficial to themselves and the baby inside of them.
Touch from a qualified therapist or your own partner has therapeutic effects. A pregnant mother or those past child birth will most likely be able to bond with her infant if during pregnancy she experienced the same pampering.
Through aromatherapy, the condition of the mother is improved and she will has a feeling of calm and goodness when massaged. The massage's effect relieves stress and other negative feelings.
Although aromatherapy can't deal with everyday problems that will occured but massage will help them manage negative emotions or any pessimistic thoughts to attain a better state of mind and well being.
Source : Aromatherapy for Mother and Baby: Natural Healing With Essential Oils During Pregnancy and Early motherhood by Allison England
Safety about aromatherapy pregnancy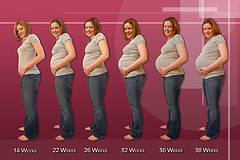 Aromatherapy can help pregnant women keeping their skin and body well nourished and potentially avoid taking drugs.
There was a French study conducted involving 1000 women respondents who are pregnant. It was noted from the study that 99% of these women were prescribed with one drug at the least during the period. 59% of these are drugs that pose a risk to the fetus with benefits considered acceptable. And 79% of these are taken medications that has not been tested for safe usage either on humans or animal thus no information on effects.
The lack of information on essential oils' applicability and safety on pregnant women and lactation is not a surprising fact having seen this data.
It is however known that the essential oil application crosses the blood-brain barrier so it is accepted that it crosses the placenta as well.
With this, essential oils with known high toxicity are avoided and there are guidelines that need to be followed in the use of essential oils during pregnancy.
On a traditional methods, a low dose topical applications will have the risk negligible.
Essential oil application is reduced during pregnancy since, like psoriasis, some skin condition tend to improve. Any formulation that is intended for any condition related to pregnancy like stretch marks, the dosage is reduced to half and only the most non-toxic essential oils are used.
The dosage of essential oils in formula for application is reduced to half not just for safety reasons but to also adjust the intensity of the scent due of hyperosmia in pregnant women.
Aromatherapy pregnancy treatment must not be administered during the first trimester of pregnancy. Only highly-knowledgeable and qualified therapists who understand the contraindication of essential oils to pregnancy can perform any treatments to pregnant women past their first trimester.
It is also important that any applications be sought for from the person's midwife or doctor.
Information on Aromatherapy Pregnancy :
Pregnancy should be a joyful time, for this special time where you are preparing the body and mind to receive the baby. The gentle and simple act of touch can bring comfort, support and a wonderful sense of nurturing as well as relieve both the physical and emotional symptoms which are common to pregnancy.
Minimizing the physical discomfort through the use of aromatherapy pregnancy will help you focus on what really matters during this important time: you and your child.
Aromatherapy pregnancy treatment can help to relieve anxiety and worry, improve connection with the baby, or just provide an opportunity for some valuable pampering.
Essential oils may be used during pregnancy and childbirth and with a couple of massage techniques, it will help establish a nurturing experience to both infant and mother.
Aroma Therapy Treatment to Ease Discomfort During Pregnancy
Aroma therapy treatment to ease discomfort during pregnancy such as nausea, heartburn, anxiety, depression, hemorrhoids, insomnia, and stretch marks.
Essential Oils that Help Labor - During labor, aromatherapy can be used to relieve pain and stress.
7 Tips to Solve Problems After Birth Using Aromatherapy
Here you'll find tips for solving problems after birth, dealing with the baby blues and adjusting to life as a new mum.
Aromatherapy Massage Pregnancy
There is no doubt that the relaxing and soothing effects of many of the oils and massage techniques used in aromatherapy massage pregnancy can increase your sense of well-being.
Fertility Aromatherapy Oil
Enhance your fertility with fertility aromatherapy oil. Increase your chances of getting pregnant without medical intervention. Filled with advice and tips.


From Aromatherapy Pregnancy Back to Aromatherapy and Essential Oils Information


---
Aromatherapy Blog | Advantages of Aromatherapy | Aromatherapy Essential Oil | Essential Oils and Their Usage | Aromatherapy Carrier Oils Information | Aromatherapy Blends Recipes | Aromatherapy Hydrosol | Aromatherapy Absolutes | Aromatherapy Candles | Aroma Diffusers | Aromatherapy for Weight Loss | Free Home Spa Ideas | Aromatherapy and Nature Crafts | Aromatherapy Pregnancy | Information About Lavender | Essential Oils for Respiratory System | Natural Ways to Deal with Stress | Aromatherapy Treatment | Aromatherapy for Pet | Chakra Essential Oils | Aromatherapy for Men | Health Benefits of Aromatherapy | Easy Homemade Gift Ideas | Aromatherapy for Women | Essential Oils Cheap or Sale | Aromatherapy Store | Fun Aromatherapy Stuff | Free Samples Aromatherapy | Aromatherapy Free Information | Aromatherapy Advice and Tips | Share Aromatherapy Recipes | Aromatherapy Videos | Aromatherapy Book Review | Aromatherapy Magazine | Aromatherapy Products Review | Aromatherapy Event | Aromatherapy Business Directory |
---