Aromatherapy Carrier Oils Information
Aromatherapy Carrier Oils vs. Essential Oils
Carrier oils are preferred in diluting the essential oils for aromatherapy. As essential oils are highly concentre and we can't use it directly on our skin, so that's why we need carrier oils as a medium to minimize skin irritations.
Unlike essential oil which made from parts of plants, aromatherapy carrier oils are almost entirely made from vegetable oils
Carrier oils are derived from fatty parts of the plant as indicated and are cold pressed vegetable oil generally
The difference between carrier oil and essential oils not only from their concentrate form but also from they way they vaporization their aroma. Essential oils are very concentrate and evaporate while carrier oils is not evaporate and not concentrate.
Carrier oils have a function to help the skin absorb essential oil. Please not to confuse them with mineral oils (example: baby oil). Mineral oil will prevent the absorption of essential oil into the skin.
Do not purchase the carrier oils in grocery stores since the products being sold there are not cold-pressed so logically those substances have already lost its therapeutic effects.
It's better you buy carrier oils at specialist aromatherapy shop or health food store. The best base oils which are 'cold pressed' will usually have a rich color and a characteristic aroma.
And also, aromatherapy carrier oils can go rancid, especially if they've been sitting there for a long time. The aromatherapy carrier oils that you purchase must be natural and unadulterated to prevent the oil from going bad too rapidly.
It is best to keep most carrier oils in a cool place or in the fridge. Stored in this way, carrier oil will be usable for up to 9 months.
When diluting an essential oil or a combination blends you need to consider this ratio between carrier oil and essential oils. Twenty drops of essential oil with a milliliter of carrier oil is a good example. For massage application it best to apply 2 ml to your palm and rub it to make it warm before you do.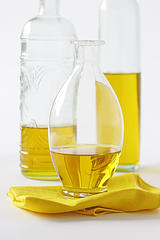 Aromatherapy Carrier Oils
"In choosing the best type of carrier oil to use on certain massages its properties must be considered so the practitioner is able to achieve the best possible result."
Below is a list of common carrier oils widely used for massages and other methods:
Sweet Almond
This carrier oil is a clear substance with a gold hue. This oil serves a hint of sweet nutty scent that is best for massages for its noted characteristic of lubrication. The goodness of this oil is that it does not get absorbed by the skin quickly, so the longer it stays, the better it is for our skin. Because of this, sweet almond oil best suitable for aromatherapy massage.
Other handy attributes of this oil is it relieves itchiness, swelling and irritation.
Sweet almond oil however goes rancid faster than other type of aromatherapy carrier oils so combining it with 10% of wheat germ or jojoba oil can help slow down the rancid process.
Grapeseed
This carrier oil is an astringent in nature though just mild. With that notable characteristic it can be used as carrier oil for acne treatment blends. This carrier oil helps tighten pores that helps support the treatment of the said skin condition. Also because of solvent-extracted process so to some people it may cause sensitivity.
Avocado
The origin of this oil is a fruit that is rich in skin nourishing nutrients like Vitamin A and E. Also the oil derived from avocado has a moisturizing quality that is good for dry skin, psoriasis and eczema.
Best blends with any essential oils
Olive (Olea europaea)
It's light green in color, good medicinal properties, soothing and healing the skin, especially when it is dry. Does not go rancid easily and can be stored without refrigeration for a year.
Read more >>>> Several Olive Oil Benefits To Our Life
Macadamia Nut (Macadamia intergrifolia )
This oil is clear and pale yellow in color. From where it is derived it retains the nutty scent. This oil contains palmitoleic acid that is noted for making the skin supple and soft.
Jojoba (Simmondsia chinensis)
The characteristic of jojoba oil is as a polyunsaturated and known as liquid wax that has a very similar composition as the oils produced by the skin.
Easily absorbed by the skin and in turn helps regulate production of skin oils both for the body or the scalp or even acne. It may also help ease swelling. Great for dry and mature skin or a skin with inflamed conditions.
To itself, jojoba is an antioxidant which means it has anti-aging properties and so it does not go rancid like the other oils and is effective in preventing rancidity of other carrier oils if combined with them.
Evening Primrose
This oil has high levels of gamma-linoleic acid that is good in treating dry skin. Additionally, this oil type helps ease swelling of the skin, medically known as dermatitis and eczema. Note that this oil goes rancid quickly so purchase as required and only when needed.
Wheat Germ Oils
This oil is viscous and golden in color. The odor of this oil strikes like dark bread. It has high content of Vitamin A,B and E.
This oil is best used with blends for treating psoriasis and eczema. And also be used to lighten stretch marks, scars and with its Vitamin E content will be good for hair care. Like jojoba, Wheat germ oil is an antioxidant so it does not go rancid and may help in prolonging the shelf life of other carrier oils.
Aromatherapy Carrier Oils
These aromatherapy carrier oils are just a small sample of the many carrier oil options available. You can check from our reputable supplier. They have large collection of it.
What's Next?
Beside,aromatherapy carrier oils, you can read information about aromatherapy essential oils.
Aromatherapy Blends Recipes - Hints, tips, aromatherapy recipes and ideas for using essential oils
Neem Oil
Neem Oil and their use. Find their characteristic, medical benefits and how to use neem seed oil here.
---
Follow Aromatherapy at home
---
Free Download "7 Days Home Spa".
Finally! An Ebook about mini Home Spa that will make your body and beauty refresh. Create a relaxing home spa experience for yourself to melt away stress and leave you feeling pampered and relaxed.

Download "7 Days Home Spa" e-book


From Aromatherapy Carrier Oils Back to Aromatherapy and Essential Oils Information


---
Aromatherapy Blog | Advantages of Aromatherapy | Aromatherapy Essential Oil | Essential Oils and Their Usage | Aromatherapy Carrier Oils Information | Aromatherapy Blends Recipes | Aromatherapy Hydrosol | Aromatherapy Absolutes | Aromatherapy Candles | Aroma Diffusers | Aromatherapy for Weight Loss | Free Home Spa Ideas | Aromatherapy and Nature Crafts | Aromatherapy Pregnancy | Information About Lavender | Essential Oils for Respiratory System | Natural Ways to Deal with Stress | Aromatherapy Treatment | Aromatherapy for Pet | Chakra Essential Oils | Aromatherapy for Men | Health Benefits of Aromatherapy | Easy Homemade Gift Ideas | Aromatherapy for Women | Essential Oils Cheap or Sale | Aromatherapy Store | Fun Aromatherapy Stuff | Free Samples Aromatherapy | Aromatherapy Free Information | Aromatherapy Advice and Tips | Share Aromatherapy Recipes | Aromatherapy Videos | Aromatherapy Book Review | Aromatherapy Magazine | Aromatherapy Products Review | Aromatherapy Event | Aromatherapy Business Directory |
---