h1>Aromatherapy Bath Recipes
Aromatherapy Bath Recipes
Rose Bath Salts
This bath recipe using Rose Geranium (pelargonium roseum).
Rose geranium has a floral scent similar to that of the geranium, but with a slightly rosy hint. It may be used in the aromatherapy treatment of acne, cellulite, dull skin, lice, menopause, and oily skin.
Ingredient: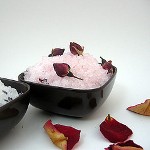 2 cups Epsom salt
2,5 tablespoon dendritic salt
1 teaspoon rose geranium essential oil
8 drops liquid dye red 33
4 tbsp. finely ground rose flowers.
Instructions:
Add the rose geranium essential oil to the dendritic salt , Blend well until the aromatic oil was absorb by the dendritic salt. Please use a large bowl to mix it.
Add the liquid dye red 33 and blend well
Simply place rose flowers to the blender and whirl until they are powdered,or you could just put them in the blend.
Gently fold the flowers to the blend.
Your bath salts are done and ready for packaging
Note: Please use a stainless steel bowl or glass mixing bowl to blend the ingredient.
To use: the bath salt ½ cup or 1 cup to your bath water.
Tips: If you don't want this dried herb to clog your drain , you can use a drain catcher to collect all the dried herb or put the herb in loose weave fabric, organza bags, or cheesecloth and tie them and put in your tub.
Bath salt color will fade eventually, direct sunlight or light can fade the color quickly, so please store them in a cool, dark place.
Where to buy the ingredients?
For organic essential oils, it is suggest to buy from
Mountain Rose Herbs.
From this company you can also buy fresh petals flower of rose, they have pink, red and a whole buds. Take a look at the picture below

Rose Petal Pink Organic

Rose Petal Red Organic

Epsom Salt
Related Articles
Look for more Aromatherapy Bath Recipes - Except this, there are a lot of aromatherapy bath recipes to choose from. Just take a look!
Tips on buying the ingredients. - Tips for make your own aromatherapy bath product, some useful hint and idea to make your bathroom turn into a luxurious bath spa.
Safety Guide on using Aromatherapy Essential Oils - Tells you the do and don't about your essential oils
What is Aromatherapy Bath Salt? - Many believe that the relaxing properties of warm water, well chosen bath salts and essential oils can provide relief from unpleasant conditions such as anxiety and stress.
---
Follow Aromatherapy at home
---
Free Download "7 Days Home Spa".
Finally! An Ebook about mini Home Spa that will make your body and beauty refresh. Create a relaxing home spa experience for yourself to melt away stress and leave you feeling pampered and relaxed.

Download "7 Days Home Spa" e-book


Back to Aromatherapy and Essential Oils Information


---
Aromatherapy Blog | Advantages of Aromatherapy | Aromatherapy Essential Oil | Essential Oils and Their Usage | Aromatherapy Carrier Oils Information | Aromatherapy Blends Recipes | Aromatherapy Hydrosol | Aromatherapy Absolutes | Aromatherapy Candles | Aroma Diffusers | Aromatherapy for Weight Loss | Free Home Spa Ideas | Aromatherapy and Nature Crafts | Aromatherapy Pregnancy | Information About Lavender | Essential Oils for Respiratory System | Natural Ways to Deal with Stress | Aromatherapy Treatment | Aromatherapy for Pet | Chakra Essential Oils | Aromatherapy for Men | Health Benefits of Aromatherapy | Easy Homemade Gift Ideas | Aromatherapy for Women | Essential Oils Cheap or Sale | Aromatherapy Store | Fun Aromatherapy Stuff | Free Samples Aromatherapy | Aromatherapy Free Information | Aromatherapy Advice and Tips | Share Aromatherapy Recipes | Aromatherapy Videos | Aromatherapy Book Review | Aromatherapy Magazine | Aromatherapy Products Review | Aromatherapy Event | Aromatherapy Business Directory |
---