Aromatherapy Bath Recipes
Aromatherapy Bath Recipes
Evening Time Bath Oil Recipe
This aromatherapy bath recipes is using :
Orange essential oils for an uplifting and effective natural deodorizer that works as an antidepressant and improves concentration.
Cedarwood Essential oils has a calming and soothing effect on the mind and is of great help in conditions associated with anxiety and nervous tension. It is also of value in cases of arthritis and rheumatism.
Ylang-ylang essential oils is good for the complexion, skin and hair, reduces anxiety, stress, PMS and muscle tension, lowers blood pressure and relieves insomnia.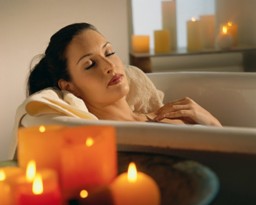 What you will need to make your own aromatherapy bath?
2 ounces of carrier oil of your choice (Jojoba oil, sesame oil, olive oil).
5 drops orange essential oil
5 drops cedarwood essential oil
5 drops Ylang Ylang essential oil
The essential oil blends may be stored in a colored glass preferably colored amber or cobalt. In a tub of bath water you may add up to a quarter of an ounce (approximately 7-8 ml) in it for the best experience.
Caution: It is highly advised not to use all 2 ounces of the essential oil blend in one bath due of hyper concentration that can lead to skin irritation.
The use of essential oil blends on children must be carefully formulated. The formula must be composed of child-appropriate essential oils. The administered amount must generally be in lesser quantity than in adults.
The essential oil blend must be mixed thoroughly with the bathwater to ensure uniformity of the solution. The best way to enjoy bathing with essential oils is to make sure that the substance is mixed with the bath water just before getting into the tub. This ensures that the essential oil does not evaporate right away getting you more exposure. This blend of Bath Oils is safer than using pure essential oils because notably the essential oils may accumulate in just one part of the tub and may cause skin irritation.
Where to buy the ingredients?
For organic essential oils, it is suggest to buy from
Mountain Rose Herbs.
From this company you can also buy carrier oils. There are variety of carrier oils to choose from. Take a look at the picture below

Choices of Organic Carrier Oils
Related Articles
Look for more Aromatherapy Bath Recipes - Hints, tips, aromatherapy recipes and ideas for using essential oils
Tips on buying the ingredients. - Tips for make your own aromatherapy bath product, some useful hint and idea to make your bathroom turn into a luxurious bath spa.
Safety Guide on using Aromatherapy Essential Oils - Tells you the do and don't about your essential oils
---
Follow Aromatherapy at home
---
Free Download "7 Days Home Spa".
Finally! An Ebook about mini Home Spa that will make your body and beauty refresh. Create a relaxing home spa experience for yourself to melt away stress and leave you feeling pampered and relaxed.

Download "7 Days Home Spa" e-book


Back to Aromatherapy and Essential Oils Information


---
Aromatherapy Blog | Advantages of Aromatherapy | Aromatherapy Essential Oil | Essential Oils and Their Usage | Aromatherapy Carrier Oils Information | Aromatherapy Blends Recipes | Aromatherapy Hydrosol | Aromatherapy Absolutes | Aromatherapy Candles | Aroma Diffusers | Aromatherapy for Weight Loss | Free Home Spa Ideas | Aromatherapy and Nature Crafts | Aromatherapy Pregnancy | Information About Lavender | Essential Oils for Respiratory System | Natural Ways to Deal with Stress | Aromatherapy Treatment | Aromatherapy for Pet | Chakra Essential Oils | Aromatherapy for Men | Health Benefits of Aromatherapy | Easy Homemade Gift Ideas | Aromatherapy for Women | Essential Oils Cheap or Sale | Aromatherapy Store | Fun Aromatherapy Stuff | Free Samples Aromatherapy | Aromatherapy Free Information | Aromatherapy Advice and Tips | Share Aromatherapy Recipes | Aromatherapy Videos | Aromatherapy Book Review | Aromatherapy Magazine | Aromatherapy Products Review | Aromatherapy Event | Aromatherapy Business Directory |
---