Aromatherapy Bath Recipes
Aromatherapy Bath Recipes
Dream Time Fizzy Bath Salts
This aromatherapy bath recipes using lavender essential oil. As you know lavender is good for calming nerves and for good night sleep. Take this bath on the evening before you go to sleep.
Ingredient: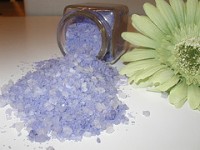 1 cup baking soda
½ cup citric acid
½ cup Epsom salt
3 tablespoon dendritic salt
1 teaspoon of lavender essential oil
A handful of lavender buds
¼ teaspoon manganese violet
Instructions:
Put all the baking soda, citric acid, Epsom salt, dendritic salt in the bowl.
stir well.
Add manganese violet to the salt. Blend well until purple shade color.
Put the lavender buds and stir just until combined.
Note: Please use a stainless steel bowl or glass mixing bowl to blend the ingredient
Suggestion: that you use the salt after you make it. But in case you want to pack it please use organza bag. Plastic and paper bag can also do but you have to make small pin prick holes to avoid the gas to escape.
To use: Sprinkle ½ cup of fizzy bath salts all over your bath tub, not just in one place. If you like, you can add more. Baking soda can soften your skin.
Where to buy the ingredients?
For organic essential oils, it is suggest to buy from
Mountain Rose Herbs.
From this company you can also buy fresh organic lavender flower. Take a look at the picture below

Organic Lavender Flower

Epsom Salt

Citric Acid

Baking Soda
The Food and Drug Administration (FDA) exempted the Manganese Violet for certification as it has been listed as a coloring agent only. The Manganese Violet is a coloring commonly used in cosmetic and on other related products. It is used safely as an additive to beauty products; those used on the lips or those near or around the eyes as long as it conform to the specifications by the FDA. The marketing of the products with this coloring component is channeled online or through shops. The purchase of this product is only based on one person's preference.
Related Articles
Look for more Aromatherapy Bath Recipes - Hints, tips, aromatherapy recipes and ideas for using essential oils
Tips on buying the ingredients. - Tips for make your own aromatherapy bath product, some useful hint and idea to make your bathroom turn into a luxurious bath spa.
What is Aromatherapy Bath Salt? - Many believe that the relaxing properties of warm water, well chosen bath salts and essential oils can provide relief from unpleasant conditions such as anxiety and stress.
Safety Guide on using Aromatherapy Essential Oils - Tells you the do and don't about your essential oils
---
Follow Aromatherapy at home
---
Free Download "7 Days Home Spa".
Finally! An Ebook about mini Home Spa that will make your body and beauty refresh. Create a relaxing home spa experience for yourself to melt away stress and leave you feeling pampered and relaxed.

Download "7 Days Home Spa" e-book


Back to Aromatherapy and Essential Oils Information


---
Aromatherapy Blog | Advantages of Aromatherapy | Aromatherapy Essential Oil | Essential Oils and Their Usage | Aromatherapy Carrier Oils Information | Aromatherapy Blends Recipes | Aromatherapy Hydrosol | Aromatherapy Absolutes | Aromatherapy Candles | Aroma Diffusers | Aromatherapy for Weight Loss | Free Home Spa Ideas | Aromatherapy and Nature Crafts | Aromatherapy Pregnancy | Information About Lavender | Essential Oils for Respiratory System | Natural Ways to Deal with Stress | Aromatherapy Treatment | Aromatherapy for Pet | Chakra Essential Oils | Aromatherapy for Men | Health Benefits of Aromatherapy | Easy Homemade Gift Ideas | Aromatherapy for Women | Essential Oils Cheap or Sale | Aromatherapy Store | Fun Aromatherapy Stuff | Free Samples Aromatherapy | Aromatherapy Free Information | Aromatherapy Advice and Tips | Share Aromatherapy Recipes | Aromatherapy Videos | Aromatherapy Book Review | Aromatherapy Magazine | Aromatherapy Products Review | Aromatherapy Event | Aromatherapy Business Directory |
---