Aromatherapy Bath and Body
9 easy aromatherapy bath and body recipes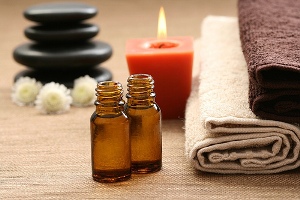 9 Easy aromatherapy bath and body care recipes:
Detoxifying Bath
Relaxing Bath
Face Blend for Normal skin
Stimulating Bath When you're on the go!
Fight The Winter Blahs with a Bath
Sunburn Relief
Minty Lips
Refreshing footbath
Athlete's foot powder
Anti Fungal Bath
Detoxifying Bath
You'll need:
2 drops of Geranium
2 drops of Rosemary
2 drop of Juniper Berry
2 drops of Lavender
Mix together in an amber bottle. Then add 5−8 drops to bath. You might want to mix a larger quantity so you can use on a weekly basis.
Recipe adapted from Aromatherapy Handbook for Beauty, Hair, and Skin Care by Erich Keller
Aromatherapy bath and body recipes for relaxing
In a warm bath put 4 drops Chamomile and 2 Lavender. Do this before bed as this is a relaxing blend!
Face Blend for Normal skin
You'll need:
Geranium 1 drop
Lavender 2 drops
Sweet Almond Oil - 1 Tablespoon
Blend essential oils with Almond oil and use on your face after cleaning and toning. Use a few drops of this blended mixture as needed.
Stimulating Bath When you're on the go!
You'll need:
Rosemary – 6 drops
Juniper berry – 3 drops
1 teaspoon of Sweet almond Oil
Add all to your bath tub. Float a few dried flower petals on top of the water if desired.
This aromatherapy bath and body blend can also be used in the shower – for a pick me up in the morning. Omit the Sweet Almond oil. Simply apply the essential oil drops to a Terracotta Disc let the essential oils soak into the disc and place in the corner of the shower where the water will hit it. It should wake you up and help you to concentrate throughout the day.
Fight The Winter Blahs with a Bath
You'll need:
Orange – 6 drops
Geranium – 2 drops
1 teaspoon of a carrier oil – Jojoba is great and so is Camellia oil
Add a few thin slices of Fresh Cut orange to the bath water too!!
Fill the tub with comfortably warm water. Add the essential oils, carrier oil and orange slices. Enjoy!
Sunburn Relief
You'll need:
Roman Chamomile – 6 drops
Lavender – 6 drops
Peppermint – 3 drops
Mix the above well, then add to Sorbolene Cream – 1 ounce Blend well, then add Distilled water – 1-2 teaspoons to thin this blend down a little. Apply to sunburned area as often as needed.
Minty Lips
A very simple and easy chapped lip relief is to simply use a little Jojoba on your lips. It absorbs quickly and keeps them nice and soft. To 10 ml of Jojoba add 1 drops of Peppermint or Spearmint. This mixture may give your lips a little tingle and warm feeling if this is too strong dilute with more Jojoba.
Try not to lick your lips for the first 10 or so minutes after you have applied this so the Jojoba can soak into the skin on your lips.
Refreshing foot bath
You'll need:
Rosemary - 6 drops
Lavender - 4 drops
Peppermint - 2 drops
Tea Tree - 1 drop
Fill a basin with warm water. Add essential oils. Soak your feet and enjoy. Soak for 10-15 minutes. Add more warm water if desired.
Athlete's foot powder
You'll need:
1 ounce Talc Powder (unscented)
Lavender - 15 drops
Peppermint - 5 drops
Add drops to a cotton pad and drop into the talc powder bottle. Shake well, several times over the next 24 hours. The Powder will be ready to use. Sprinkle on feet and between toes after bathing. Dry between the toes well before applying powder.
Anti Fungal Bath
You'll need:
Lavender 4 drops
Geranium 1 drop
Tea Tree 1 drop
Fill your bath tub, then add the essential oils. Add 1 - 2 cups of sea salts, mix well. Soak for a minimum of 20 minutes. Be sure to dry your skin well, especially between your toes and other cracks, where moisture can be trapped. (If you have a prescribed medication, apply after you are completely dry.)
If you are fond about lavender you can check our favorite aromatherapy bath and body recipes using lavender oils
There's also five recipes for Aromatherapy Bath Salts remarkably easy to make, and very pretty when you decorate recycled glass jars with a label tag onto it. Perfect for gift.
Beside this aromatherapy bath and body, there are also another easy aromatherapy recipes to make click here to found out!
Order Aromatherapy Recipes Book
---
Follow Aromatherapy at home
---
Free Download "7 Days Home Spa".
Finally! An Ebook about mini Home Spa that will make your body and beauty refresh. Create a relaxing home spa experience for yourself to melt away stress and leave you feeling pampered and relaxed.

Download "7 Days Home Spa" e-book


Back to Aromatherapy Blends Recipes

Back to Aromatherapy and Essential Oils Information


---
Aromatherapy Blog | Advantages of Aromatherapy | Aromatherapy Essential Oil | Essential Oils and Their Usage | Aromatherapy Carrier Oils Information | Aromatherapy Blends Recipes | Aromatherapy Hydrosol | Aromatherapy Absolutes | Aromatherapy Candles | Aroma Diffusers | Aromatherapy for Weight Loss | Free Home Spa Ideas | Aromatherapy and Nature Crafts | Aromatherapy Pregnancy | Information About Lavender | Essential Oils for Respiratory System | Natural Ways to Deal with Stress | Aromatherapy Treatment | Aromatherapy for Pet | Chakra Essential Oils | Aromatherapy for Men | Health Benefits of Aromatherapy | Easy Homemade Gift Ideas | Aromatherapy for Women | Essential Oils Cheap or Sale | Aromatherapy Store | Fun Aromatherapy Stuff | Free Samples Aromatherapy | Aromatherapy Free Information | Aromatherapy Advice and Tips | Share Aromatherapy Recipes | Aromatherapy Videos | Aromatherapy Book Review | Aromatherapy Magazine | Aromatherapy Products Review | Aromatherapy Event | Aromatherapy Business Directory |
---