Aromatherapy for Hot Tubs
How to Use Aromatherapy for Hot Tubs Correctly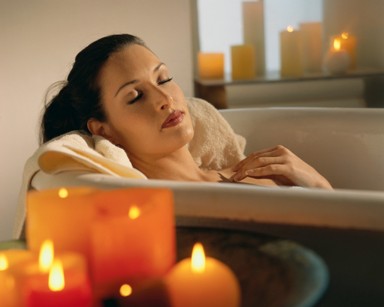 There are many unconventional means of treating ailments and body discomforts. With cost of medicines and treatment going up and the general shift of people to go for more natural treatments, it is not surprising that alternatives like Aromatherapy are becoming popular among the people.
For many, Aromatherapy relates to creating an ambiance in our living rooms and bed rooms to relax our mind and body. While this is surely one of the most common uses of this technique, it is a great means of treating ailments too.
This is where techniques like Aromatherapy for hot tubs become significant.
We have heard it many times and also experimented with it, where ever you feel pain in your legs after excessive walking or just strain, if you immerse them in lukewarm water, you feel relaxed.
This is because the warm water increases blood circulation and helps heal faster. The same logic can be applied for other kinds of problems too. Aromatherapy in hot tubs does just that.
How to Use Aromatherapy in Hot Tubs?
This is a very simple technique that you can use and you do not need to go to some flashy spa to do it. You can do it in your home bath tub itself.
Fill in your bath tub with hot water and add some aromatherapy oils to it. Then you can immerse yourself in the tub for about 15 to 20 minutes and get great results.
Typically, it is best to use a combination of oils for such spas to get a great all round experience. So you may need to mix the oils in a base before adding it to the water.
Secondly, certain oils become ineffective at higher temperatures, so you need to be cognizant about that. It is better to use lukewarm water instead of hot water. You get better results that way.
A Word of caution - How to use aromatherapy for hot tubs correctly
The essential oils and mainly oil concentrates from various natural sources and being oils, they tend to float on top of the water.
So you need to be sure that you are not allergic to these oils before using them.
You must remember that adding these oils to water does not dilute. Some oils may leave scum on your bath tub, so after the aromatherapy session, you may have to clean your tub thoroughly.
Lastly, if you do face some itching or irritation after the aromatherapy hot tub session, apply some soothing cream on the affected areas for immediate relief. If the problem persists visit your doctor for further course of action.
Different kinds of hot tubs
There are different kinds of hot tub baths that you can experiment with.
The Sitz baths are typically created to treat problems in the lower abdomen like menstruation, kidney problems etc. They are also effective in constipation.
Depending on the problem (s) you want to treat you can choose from a wide range of essential oils like Marjoram, Rosemary, Birch, Rockrose, Sandalwood, etc. And also you can mix with herbs or even witch hazel. Add them to the hot water tub.
The Foot Bath is similar except that you immerse your foot in hot water and use different combination of oils. Besides, the ailments you target are also different like insomnia, foot perspiration, rheumatism, cold feet, etc.
In conclusion, there are many uses of aromatherapy in hot bath tubs and they can be used as effectively as diffusers or other aromatherapy techniques.
---
Follow Aromatherapy at home
---
Free Download "7 Days Home Spa".
Finally! An Ebook about mini Home Spa that will make your body and beauty refresh. Create a relaxing home spa experience for yourself to melt away stress and leave you feeling pampered and relaxed.

Download "7 Days Home Spa" e-book


From Aromatherapy for Hot Tubs Back to Aroma Diffusers

Back to Aromatherapy and Essential Oils Information


---
Aromatherapy Blog | Advantages of Aromatherapy | Aromatherapy Essential Oil | Essential Oils and Their Usage | Aromatherapy Carrier Oils Information | Aromatherapy Blends Recipes | Aromatherapy Hydrosol | Aromatherapy Absolutes | Aromatherapy Candles | Aroma Diffusers | Aromatherapy for Weight Loss | Free Home Spa Ideas | Aromatherapy and Nature Crafts | Aromatherapy Pregnancy | Information About Lavender | Essential Oils for Respiratory System | Natural Ways to Deal with Stress | Aromatherapy Treatment | Aromatherapy for Pet | Chakra Essential Oils | Aromatherapy for Men | Health Benefits of Aromatherapy | Easy Homemade Gift Ideas | Aromatherapy for Women | Essential Oils Cheap or Sale | Aromatherapy Store | Fun Aromatherapy Stuff | Free Samples Aromatherapy | Aromatherapy Free Information | Aromatherapy Advice and Tips | Share Aromatherapy Recipes | Aromatherapy Videos | Aromatherapy Book Review | Aromatherapy Magazine | Aromatherapy Products Review | Aromatherapy Event | Aromatherapy Business Directory |
---