Aromatherapy Rose
Aromatherapy Rose Oil
Should you or shouldn't you buy it.
Due to the high price of rose essential oils, many people are not willing buy them. But even with their prohibitive price, rose oils are still perhaps the most widely used oils in aromatherapy and the most sought after essential oils.
What makes the price of rose essential oils so expensive?
Imagine that to produce 1 pound of rose essential oils, you will need 5000 pounds of fresh rose petal. And to harvest, you need to do that before sunrise, otherwise their oil content will diminish later in the day. All the petals are extracted by steam distillation.
And that is why their scent is so potent. Just 1 or 2 drops in aroma lamp will change the whole room's atmosphere.
Did you Know?
Did you know that it takes 60,000 fresh roses (200 pounds) to make one ounce of rose essential oil? That equals 30 roses for every single drop!

It's no wonder that rose essential oil is so expensive. Many suppliers mix it with rose geranium oil to cut a bit on the cost. This essential oil is priced due to its notable characteristic in scent that lasts for a long period of time that is very delightful!


Here are a couple things to consider if you want to buy Aromatherapy rose oils.
You should buy it if:
You go crazy about its scent
You are truly an aromatherapy addict
You find rose essential oils are more effective to use than other essential oils on your body
Buy Organic Bulgaria Rose Essential Oils
You shouldn't buy it if:
You don't mind swapping it with other essential oils. Some of essential oils have the same effect on our body though they do not have same scent. As such rose is uses as an aphrodisiac but besides rose you can also use ylang ylang essential oils, which I think are cheaper than rose.
You don't know how to tell between a real one with the fake one. There are many fake rose essential oils out there, and also there are many rose essential oils which produced from cheaper plants. Therefore you should beware when purchasing rose essential oils.
You don't mind to use rose hydrosol as a substitute for rose essential oils.
Tips on how to look for the real aromatherapy rose oil
Always demand oil made from real rose plants -- Rosa Damascena, Rosa centifollia or Rosa gallica
These plants of rose are cultivated in Bulgaria, Tunisia, Morocco, Turkey, southern France, Italy, India, China, and the Soviet Union. But the oil which is produce in Bulgaria is far superior, while the oil produced in Turkey is too heavy and passionate for most people.
The color of rose essential oils usually faintly yellow, greenish, or orange green
The fragrant is rose, flowery
Their content are Citronellol, rhodinal, phenylethlyalcohol(especially rosewater phase of the distillation process), stearopton, nerol, linalool, geranium, eugenol, different forms of acid, aldehydes
Click here to see what's the difference between Aromatherapy Rose Oil, Rose Otto and Rose Attar
Some of recommended essential oils to substitute aromatherapy rose oil
Click here to see what are the benefit of rose essential oils
For balancing women's hormone system, you can use geranium essential oils
Rose is good for relieve tension or migraine, check out other essential oils for migraine
Rose functions as a skin care cleanser and toner, it helps any skin type especially dry skin problems. If you have these problems then you can replace rose essential oils with ylang ylang, rosewood and patchouli
Rose essential oils are known as one of aphrodisiac oils. Click here to find out other aphrodisiac essential oils
Rose oils usually used for comforting people when they are sad. Besides rose, you can use lavender. Other than rose, you can use lavender, rosewood, roman chamomile, marjoram and melissa
Reference
S. Fischer-Rizzi, Complete aromatherapy handbook: essential oils for radiant health, (Sterling Publishing Company, Inc., 1991)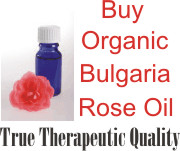 ---
Follow Aromatherapy at home
---
Free Download "7 Days Home Spa".
Finally! An Ebook about mini Home Spa that will make your body and beauty refresh. Create a relaxing home spa experience for yourself to melt away stress and leave you feeling pampered and relaxed.

Download "7 Days Home Spa" e-book

Back to Aromatherapy Products Review

Back to Aromatherapy and Essential Oils Information


---
Aromatherapy Blog | Advantages of Aromatherapy | Aromatherapy Essential Oil | Essential Oils and Their Usage | Aromatherapy Carrier Oils Information | Aromatherapy Blends Recipes | Aromatherapy Hydrosol | Aromatherapy Absolutes | Aromatherapy Candles | Aroma Diffusers | Aromatherapy for Weight Loss | Free Home Spa Ideas | Aromatherapy and Nature Crafts | Aromatherapy Pregnancy | Information About Lavender | Essential Oils for Respiratory System | Natural Ways to Deal with Stress | Aromatherapy Treatment | Aromatherapy for Pet | Chakra Essential Oils | Aromatherapy for Men | Health Benefits of Aromatherapy | Easy Homemade Gift Ideas | Aromatherapy for Women | Essential Oils Cheap or Sale | Aromatherapy Store | Fun Aromatherapy Stuff | Free Samples Aromatherapy | Aromatherapy Free Information | Aromatherapy Advice and Tips | Share Aromatherapy Recipes | Aromatherapy Videos | Aromatherapy Book Review | Aromatherapy Magazine | Aromatherapy Products Review | Aromatherapy Event | Aromatherapy Business Directory |
---