Aromatherapy Perfume Recipes
Provides instructions for aromatherapy perfume recipes to create fragrances that reflect one's mood.
Creating a "signature scent" would be simple and easy. If you don't know how to find "your scent", then, as the start you can take this aromatherapy quiz and came back again if you got the result.
Please note that the core of knowing what's your best signature scent is by wearing it. Because the perfume will mix with your own body scent. It is possible that the same fragrance may result difference in some people.
Why we need perfume in our daily life?
For thousand of years people have enveloped themselves in a pleasant smell. They used it in a bath, or in a lotion to pamper themselves. Perfume is meant to attract someone's attraction, Like a flower attract the bees by using their fragrant.
Commercial Perfume vs. Homemade Perfume.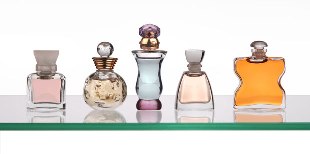 Commercial perfume usually very expensive compare to material they bought. Commercial Perfume are based on synthetic fragrances with a base in alcohol or alcohol water solution with fixative. They sometimes use animal scents as a fixative. Compare to the homemade perfumes which is used jojoba oil as a natural fixatives. Homemade perfumes does have more health value than commercial ones thus they are more cheaper.
It is truly pleasant to make your own perfume by selecting and mixing the essential oils by yourself.
To find the best essential oil you like you might want to experiment the blends and the basic essential oils. This is a way of familiarizing yourself with the essential oils. The following recipes are diluted in 1/3 oz Jojoba oil. The essential oil measurements will be noted in drops.
Woody : 15 cedarwood, 5 sandalwood, 5 rosewood and 2 lemongrass.
Sweet : 4 neroli, 4 rose, 4 rosewood, 4 sandalwood.
Sweet, slightly aphrodisiac : 4 jasmine, 4 ylang ylang, 8 rosewood, 1 vanilla, 4 neroli
Refreshing : 10 bergamot, 5 melissa, 10 petitgrain, 5 lemon verbena
Heavy, exotic, aphrodisiac : 10 patchouli, 8 frankincense, 6 ylang ylang, 4 jasmine.
Strong manly aphrodisiac : 15 sandalwood, 5 carrot seed, 1 clove and 3 ylang ylang
Very aphrodisiac : 10 carrot seed, 10 patchouli, 5 ylang ylang, 5 cypress.
Tips:
Add the essential oils to jojoba oil drop by drop start by adding the base note, middle note and top notes. If you add top notes first then you'll not smell the top note clearly or understand their effect on the blends.
See what is Top, Middle and Base Note.
Don't forget that not all the people like the perfumes, some people sensitive to specific scents, If you're going to give it as a gift, do check first with the recipent
And if you have your own favorite aromatherapy perfume recipes, please share it at this forum
Other pages that you might find helpful
Make Perfume with Essential Oils - If you never done it before and don't know what to do. This page will guide you through the process of make perfume with essential oils.
Aphrodisiac Essential Oils - Set your love life on fire! Turn up the action with these Aphrodisiacs Essential oils.
Homemade Valentine Gifts - How to Make Aphrodisiac Perfumes using floral water as a base.
All the aromatherapy perfume recipes are based on Aromatherapy Handbook for Beauty, Hair, and Skin by Erich Keller.
Watch the video
---
Follow Aromatherapy at home
---
Free Download "7 Days Home Spa".
Finally! An Ebook about mini Home Spa that will make your body and beauty refresh. Create a relaxing home spa experience for yourself to melt away stress and leave you feeling pampered and relaxed.

Download "7 Days Home Spa" e-book


From Aromatherapy perfume recipes back to Aromatherapy blends recipes

Back to Aromatherapy and Essential Oils Information


---
Aromatherapy Blog | Advantages of Aromatherapy | Aromatherapy Essential Oil | Essential Oils and Their Usage | Aromatherapy Carrier Oils Information | Aromatherapy Blends Recipes | Aromatherapy Hydrosol | Aromatherapy Absolutes | Aromatherapy Candles | Aroma Diffusers | Aromatherapy for Weight Loss | Free Home Spa Ideas | Aromatherapy and Nature Crafts | Aromatherapy Pregnancy | Information About Lavender | Essential Oils for Respiratory System | Natural Ways to Deal with Stress | Aromatherapy Treatment | Aromatherapy for Pet | Chakra Essential Oils | Aromatherapy for Men | Health Benefits of Aromatherapy | Easy Homemade Gift Ideas | Aromatherapy for Women | Essential Oils Cheap or Sale | Aromatherapy Store | Fun Aromatherapy Stuff | Free Samples Aromatherapy | Aromatherapy Free Information | Aromatherapy Advice and Tips | Share Aromatherapy Recipes | Aromatherapy Videos | Aromatherapy Book Review | Aromatherapy Magazine | Aromatherapy Products Review | Aromatherapy Event | Aromatherapy Business Directory |
---