Aromatherapy Night Light
Aromatherapy night light can be added to your aromatherapy oil diffuser collection.
It works just like scent ball oil diffuser. Some aromatherapy night lights do not have a pad and some do. You just need to drop a few of essential oils or blends onto the small plate of the lamp or the pads; the heat from the bulb will warms the water and disperses the essential oils into the room.
It has a function as an Air cleanser, deodorization, fragrance diffuser, and also as a night lamp. Works best in bathroom or bedroom.
This aromatherapy night light is specially designed for use in a child's bedroom. It incorporates the benefits of aromatherapy with a comforting night light to help settle restless children.
Aromatherapy night light can be used for Alzheimer's patient too. They need ENOUGH LIGHT. Put a night light next to the bed and mark the way to the bathroom with additional night lights.
Oil Light Diffuser Rings
This Oil light Diffuser Rings make it easy for you to enjoy the soothing and rejuvenating fragrance of essential oils and their therapeutic effects.
Simply place a few drops of your favorite essential oil into the glazed center of the Oil light Diffuser Rings. Place the ring atop your lamp's light bulb. When the light turned on, it will increase the temperature and heated the oils, makes them diffuse to the room. You can simply add more oil as needed.
Please remember: only apply your oils when the lamp is off and the ring is cool ensuring that you do not get any oil on the light bulb itself or on the fitting, as essential oils are inflammable.
Use of Oil light Diffuser Rings may not be optimal for oils that need cold-air diffusion methods, because the heat can destroy certain constituents of the oils and reduce the therapeutic benefit. But this device is easy to use and is inexpensive. Besides you can change the mood of the room instantly.
Tips: Use a low-wattage bulb. The cooler the bulb, the longer the fragrance will last. 25-40 watt bulbs work best. Don't go above 60 watts or your oil may burn!
One of the examples of Oil light Diffuser Rings is Terracota lamp rings.
Terracota Lamp Rings.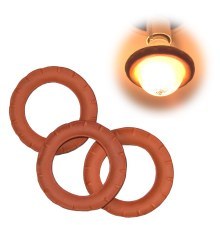 To use Terracota lamp rings: A couple of drops of the essential oil may be placed on the ring of the light bulb before turn it on. When it is turned on, the essential oil will be heated and the scent will fills the room with a very nice fragrance.
Things you should know about Oil light diffuser rings:
This diffuser is cheap
Great if you want your burner to be out of sight, can be used just about anywhere
Don't have to worry about candles or matches
This diffuser rings get hot while in use
Only recommended with below 60 watt light bulbs
Very difficult to put the oils into the ring
Ceramic styles can crack with prolonged heat exposure
Don't put a wet ring on a hot light bulb or spilling oil onto it can break the bulb
---
Follow Aromatherapy at home
---
Free Download "7 Days Home Spa".
Finally! An Ebook about mini Home Spa that will make your body and beauty refresh. Create a relaxing home spa experience for yourself to melt away stress and leave you feeling pampered and relaxed.

Download "7 Days Home Spa" e-book


Another type of Diffusers beside Aromatherapy Night Light


Back to Aromatherapy and Essential Oils Information


---
Aromatherapy Blog | Advantages of Aromatherapy | Aromatherapy Essential Oil | Essential Oils and Their Usage | Aromatherapy Carrier Oils Information | Aromatherapy Blends Recipes | Aromatherapy Hydrosol | Aromatherapy Absolutes | Aromatherapy Candles | Aroma Diffusers | Aromatherapy for Weight Loss | Free Home Spa Ideas | Aromatherapy and Nature Crafts | Aromatherapy Pregnancy | Information About Lavender | Essential Oils for Respiratory System | Natural Ways to Deal with Stress | Aromatherapy Treatment | Aromatherapy for Pet | Chakra Essential Oils | Aromatherapy for Men | Health Benefits of Aromatherapy | Easy Homemade Gift Ideas | Aromatherapy for Women | Essential Oils Cheap or Sale | Aromatherapy Store | Fun Aromatherapy Stuff | Free Samples Aromatherapy | Aromatherapy Free Information | Aromatherapy Advice and Tips | Share Aromatherapy Recipes | Aromatherapy Videos | Aromatherapy Book Review | Aromatherapy Magazine | Aromatherapy Products Review | Aromatherapy Event | Aromatherapy Business Directory |
---