Aromatherapy Massage Pregnancy For Soothe Mind and Relax The Body
Aromatherapy massage pregnancy can turn out to be extremely beneficial and helpful option for expectant mother to soothe the mind and relax the body.
During pregnancy your body is going through dramatic hormonal changes and incurring great strains. Most of these strains occur in the lower back and legs due to increased heaviness. The essential oils used in this blend are the best natural pain relievers expectant mothers can use safely. Gentle massage using essential oils can really help to calm them down and balance their emotions.
There are different views about aromatherapy massage pregnancy. Indigenous peoples in Africa value massage all the way through pregnancy and labor as well as after birth. It is important to stress, however, that deep massage over the abdomen should not be carried out this time.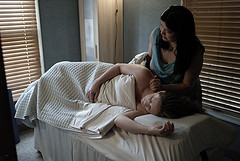 Gentle techniques, such as circle stroke and the figure of eight, are very soothing, particularly in the later stages. Circling over the lower back is a great help for aches and pains.
A soft aromatherapy massage pregnancy blend for stress relief and improved rest from month three onwards: 2 drops of palmarosa and 2 drops of neroli dilute in 20 ml of sweet almond oil.
Foot Massage Pregnancy
Dilute 3 drops of lavender essential oils and 3 drops of chamomile essential oils in 30 ml of carrier oil. Massage this blend carefully, not to deeply, as some pressure points in the feet, ankles and legs can induce labor.
This blend has a soft floral fragrance that is very relaxing to the mind and soothing to the nerves. Perfect after a long day on your feet. You may use this blend during all stages of your pregnancy without causing harm to your unborn child.
If you have varicose veins, then you can add 4 drops of lavender essential oils and 3 drops of cypress essential oils dilute in 40 ml of carrier oils. Note that administering massage to gestating women must be of not-too strong pressured strokes from foot then upward. Gentle strokes are applied especially on parts with varicose veins.
Essential Oils for Edema
Common during pregnancy, women suffer from Edema due to increased water retention. The essential oils most appropriate to use to massage the feet and ankles are geranium, lavender and rosemary. These essential oils may be diluted in olive oil and will encourage the increase in lymphatic circulation that will allow expulsion of excess fluid. A footbath may also be administered and you may use 3 drops of each essential oil lemon or geranium with 3 drops of lavender.
Try this blend:
1 drop of ginger
2 drops of myrrh
2 drops of frankincense
30 ml of safflower oil
and massage your feet and ankles using upward storke gently
Massage During Labor
In early labor, a back massage can be very relaxing. Concentrate on circle the lower back and the buttocks with the heel of your hand. Gentle circles can also be given in abdomen area. Between the contraction, gentle strokes to the face will be calming, and the heel of the hand can also be used to massage the feet.
Try to use 2 drops of clary sage essential oils and 2 drops of jasmine essential oils in 20 ml of carrier oils.
---
Follow Aromatherapy at home
---
Free Download "7 Days Home Spa".
Finally! An Ebook about mini Home Spa that will make your body and beauty refresh. Create a relaxing home spa experience for yourself to melt away stress and leave you feeling pampered and relaxed.

Download "7 Days Home Spa" e-book


From Aromatherapy massage pregnancy back to Aromatherapy Pregnancy

Back to Aromatherapy and Essential Oils Information


---
Aromatherapy Blog | Advantages of Aromatherapy | Aromatherapy Essential Oil | Essential Oils and Their Usage | Aromatherapy Carrier Oils Information | Aromatherapy Blends Recipes | Aromatherapy Hydrosol | Aromatherapy Absolutes | Aromatherapy Candles | Aroma Diffusers | Aromatherapy for Weight Loss | Free Home Spa Ideas | Aromatherapy and Nature Crafts | Aromatherapy Pregnancy | Information About Lavender | Essential Oils for Respiratory System | Natural Ways to Deal with Stress | Aromatherapy Treatment | Aromatherapy for Pet | Chakra Essential Oils | Aromatherapy for Men | Health Benefits of Aromatherapy | Easy Homemade Gift Ideas | Aromatherapy for Women | Essential Oils Cheap or Sale | Aromatherapy Store | Fun Aromatherapy Stuff | Free Samples Aromatherapy | Aromatherapy Free Information | Aromatherapy Advice and Tips | Share Aromatherapy Recipes | Aromatherapy Videos | Aromatherapy Book Review | Aromatherapy Magazine | Aromatherapy Products Review | Aromatherapy Event | Aromatherapy Business Directory |
---