Aromatherapy in Our Home
by Ab
(CA)
My family and I believe in both traditional and natural or alternative medicine. Although we visit our doctor and take drugs if needed, we feel that the herbs and vitamins we take make us healthy too.
Aromatherapy or using essential oils in promoting health has also a place in our family's healthcare.
We have been using Bel-Air lamps and essential oils for many years now to help relieve allergy and cold symptoms such as congestion and sneezing. These lamps diffuse aromas in the air that make breathing easier.
We use either eucalyptus or basilic oils. I use these oil lamp diffusers along with chinese oil rubs that can be used on the chest and forehead (much like Vicks vaporub). We not only use aromatherapy when someone in the household is sick.
Whenever one of us feels that the day has been stressful and feels a need to relax, we diffuse oils and breathe in the soothing scent. We've used naturally scented candles before, but we find that oil diffuser lamps work best as they release a purer scent and leaves aromas in the air much longer.
Our family also makes use of aromatherapy during bath time. We occasionally purchase Japanese bath powders (Ofuro brand) which contain aromatic and therapeutic ingredients such as lavender and shiso. We pour the powders and then soak in a bath tub full of warm water. The experience is very refreshing and invigorating.
We believe that aromatherapy, in combination with other natural remedies or modern medicine, does help in curing sickness and promoting general health.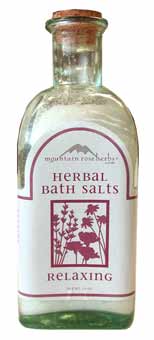 Relaxing Herbal Bath Salts


Feel overworked? A little exhausted? Then surely you deserve a special treat such as these delightful Mineral Bath Salts. Made with fine Dead Sea Salt and Celtic Sea Salt, Soda Salt, Epsom Salt, Bicarbonate of Soda, Maltodextrin, pure essential oils of Lavender, Ylang-Ylang, Geranium, Clary Sage, Fir Needle, Patchouli, botanical extracts of Calendula, and Chamomile, Olive Oil, and Vitamin E.



Relaxing Herbal Bath Salts