Aromatherapy help stress and tension headaches
by anonymous



Aromatherapy has helped my stress and tension headaches like nothing else. I don't want to be constantly popping aspirin or feeling like my head is held between a vise.

I've been dealing with stress headaches for several years, but with a new husband and a new job, there's so much to do and not enough time to do it! I'm happy, but there is a lot of stuff to deal with, a lot of transitions, and sometimes it feels a little overwhelming.

I have always been fairly skeptical of treatments like aromatherapy, but when I started getting the headaches more frequently, I knew I had to try something.

My doctor suggested that I try aromatherapy, before I started on heavy-duty painkillers, and I was so desperate, I said okay.

I had a session at a spa that she recommended, and I felt better for days! I really enjoyed that experience, but it's kind of expensive, so I go back every month or so for the deep de-stressing experience, and every few days I give myself my own treatment.

I have a collection of essential oils I use, like ylang ylang, lavender and vanilla. Depending on my mood, I use an essential oil burner with one of these scents, lie down on my bed, turn the lights low, play some relaxing music (I have a couple of meditation CDs I use for this purpose), and breathe in the scents.

Sometimes I rub the oil into my pulse points to enhance the experience and to further relax me. I relax and breathe for about 20 minutes, undisturbed, then I can open my eyes, stretch and get on with the rest of the week.

It sounds a little weird, I know, but it really make a difference. I am totally convinced, and I think that everyone should try it, because how will you know how it works for you if you don't?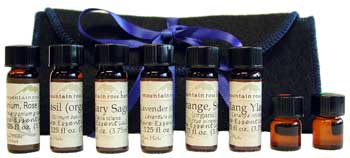 Favorites Essential Oil Sampler


A unique collection handpicked by the staff of Mountain Rose Herbs which contains some of our favorite and most uplifting aromas. A great introductory gift for yourself or a loved one. Contains: Six 1/8-ounce vials of organic Lavender, Clary Sage, organic Basil, organic Geranium, organic Orange, organic Ylang Ylang; and two 1/24-ounce vials of organic Roman Chamomile and organic Bulgarian Rose. Packaged in a custom designed cloth pouch.



Favorite Oils Sampler