Aromatherapy for Men
Aromatherapy for Men
Explore essential oils for men's special needs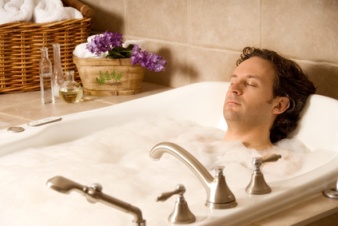 Benefit of aromatherapy
Aromatherapy means mental and physical healing using natural scents derived from flowers, trees, fruits and other vegetation.
This line of healing has been rapidly gaining popularity worldwide and approximately 150 different kinds of essential oil scents are produced.
Aromatherapy improves physical and mental health. It relieves stress and fatigue, alters the mood, and helps in relieving from pain. Also, it affects the skin making it softer, smoother and vibrant. Some essential oils act as natural aphrodisiacs.
More on Advantages of Aromatherapy
Aromatherapy for Men vs. Women
Though aromatherapy benefits can be derived by both, men and women, yet many men shy away from the concept.
They have a wrong notion that aromatherapy is a healing process meant especially for women. However, the concept of aromatherapy is fast getting hold in man's world too.
Aromatherapy affects men and women differently. The impact of a particular essential oil might be different for men from women and even between two men.
It is due to difference in sensory stimulation of brain by a scent. For example, a woman might find an aroma pleasing while a man might discard it for some reason of his own.
Although women have a higher number of scent receptors as compared to men, the beneficial effects of aromatherapy can be enjoyed by men too; the only thing to keep in mind is that man's needs differ from that of women and their choices too.
For enhancing the mental and physical health of men, the scents used should provide for their specific needs and must be of their liking.
According to the research, age also a factor on which scents man's likes. For older men, they tend to response strongly to vanilla than younger men.
Essential oils for men
Unlike women, men do not generally appreciate floral and fruity smells for themselves. No men would prefer to smell like a flower. They like strong and masculine smells.
The essential oils can be used by men in room diffusers, aromatherapy inhalers, massage, bathwater, lotions and crèmes.
The scents strongly favored by most men are Patchouli, Sandalwood, Bay, Oak moss, Ginger, Black pepper, Vetiver and Citrus oils. One may not think vanilla as a manly scent, but some men do have much liking for it.
Here are essential oils that some men use to ignite their sex life:
Agarwood is an essential oil known to be most powerful herbal aphrodisiac. It has an ecstatic, sedative and sensual effect on the nervous system. It can be used in diffusers and kept in bedrooms or it can be used in a massage.
Jasmine oil is another aphrodisiac for men. It increases the energy level and elates the mood setting it right. It also helps in treating sexual problems like impotence and frigidity.
Cedarwood has a strong outdoors aroma which many men enjoy a lot. It reduces daily stress and rejuvenates them. It can be used in massage for enjoying its therapeutic effect through inhalation as well as absorption through skin.
Lavender, although having a floral aroma, is liked by many men due to its calming effects. It can be used in bath water or massage or can be used in candles. It also helps in reducing stress and anxiety. It gives a great blend when mixed with other masculine scents.
Rosemary though sounds feminine but it has a strong woody smell which most men appreciate and it can be used in massage for its added benefits.
Aromatherapy for men also involve in evoke more powerful sexual feeling. Robert Tisserand mention in his book that an aromatherapist treating a man who had been impotent for some years.
Although aromatherapy provides several benefits to men and is a natural way of maintaining mental and physical health. But one should remember not to use essential oils without diluting as these are highly concentrated and irritate skin. Don't forget to read health safety when using aromatherapy
Aromatherapy for men, it isn't about sexual appealing or stimulate your love mood but it can reach beyond of that. In the next upcoming articles, I might want to discuss about that. So keep coming back to see its update.
---
Follow Aromatherapy at home
---
Free Download "7 Days Home Spa".
Finally! An Ebook about mini Home Spa that will make your body and beauty refresh. Create a relaxing home spa experience for yourself to melt away stress and leave you feeling pampered and relaxed.

Download "7 Days Home Spa" e-book


From Aromatherapy for Men Back to Aromatherapy and Essential Oils Information


---
Aromatherapy Blog | Advantages of Aromatherapy | Aromatherapy Essential Oil | Essential Oils and Their Usage | Aromatherapy Carrier Oils Information | Aromatherapy Blends Recipes | Aromatherapy Hydrosol | Aromatherapy Absolutes | Aromatherapy Candles | Aroma Diffusers | Aromatherapy for Weight Loss | Free Home Spa Ideas | Aromatherapy and Nature Crafts | Aromatherapy Pregnancy | Information About Lavender | Essential Oils for Respiratory System | Natural Ways to Deal with Stress | Aromatherapy Treatment | Aromatherapy for Pet | Chakra Essential Oils | Aromatherapy for Men | Health Benefits of Aromatherapy | Easy Homemade Gift Ideas | Aromatherapy for Women | Essential Oils Cheap or Sale | Aromatherapy Store | Fun Aromatherapy Stuff | Free Samples Aromatherapy | Aromatherapy Free Information | Aromatherapy Advice and Tips | Share Aromatherapy Recipes | Aromatherapy Videos | Aromatherapy Book Review | Aromatherapy Magazine | Aromatherapy Products Review | Aromatherapy Event | Aromatherapy Business Directory |
---