Aromatherapy for Arthritis
Information about using essential oils
and aromatherapy for arthritis.
According to the trusted medical website, WebMD, there are over 100 different types of arthritis. Some of the popular one is Rheumatoid Arthritis and osteoarthritis.
Rheumatoid Arthritis commonly attack women and involve chronic inflammation of the connective tissue around the joint causing pain, stiffness and swelling, while in Osteoarthritis there is a progressive wearing away of cartilage, the connection tissue thickens and any fluid which filling the joint will cause swelling, resulting in severe pain and reduced movement.
In the United States alone, it is estimated that around 70 million people suffer from arthritis. The exact cause it unknown; it may be due to genetics, workplace conditions, age, or weight. Since there is no cure, the goal of treatment is to treat the pain; make the pain manageable. While most arthritis sufferers opt for a bottle of over-the-counter pain medication, you may want to try a different approach. You may want to try aromatherapy for arthritis.
How does aromatherapy help your arthritis problems?
For general joint pain, you can try easing the pain with 10 drops Eucalyptus Citriodora and 10 drops of Helichrysum with 5 ml sesame oil.
Essential Oils has been used successfully for many years to reduce inflammation and pain in fibrous tissue around the joint and giving increased mobility.
Some of essential oils for arthritis are:
Geranium, Marjoram and Juniper are know to have analgesic and stress relieving properties
Cajeput and Coriander both has anti inflammatory properties that are effective on connective tissue and dulling arthritic pain
Other essential oils that have anti inflammatory properties such as Roman Chamomile, Lemongrass, Lavender, Lemon Verbena, Pine and Niaouli are also have a great benefit for arthritis
Rosemary is an effective muscle relaxant in a stronger dose and also can help reduce the fluid around the joint
For severe pain -- clove, nutmeg and cajeput may have a stronger effect
Using aromatherapy for arthritis pain relief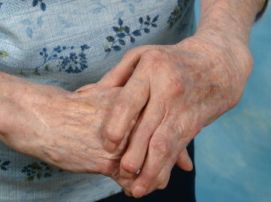 The most effective it applying those above oil above to the affected area or with compress. They can be apply with or without massage, although the massage can relax the muscle. A warm compress can also be used in relaxing the muscle and reduce the pain.
If you want to apply those essential oils for a massage, don't forget to add carrier oils. Carrier oils that benefit arthritis and rheumatism when massage to affected are borage, flaxseed, hemp and sesame oil.
Arthritis Massage Blends
1 ounce flaxseed oil
1 ounce hemp oil
4 drops Helichrysum oil
4 drops Chamomile oil
3 drops Coriander oil
2 drops Benzoin oil
1 drop Ginger oil
1 drop Black Pepper oil
Place the carrier oil in a clean container, add the essential oils and mix. Massage your joint and muscle as necessary to reduce the pain.
Another good articles on Aromatherapy for Arthritis is Aromatherapy in the Treatment of Arthritis by Dr. Vivian Lunny, she also stated some case studies in her articles.
You may want to take a look on our ready made blends for Arthritis - Sweet muscle blends first formula and second formula. Both are tested in people with Rheumatoid Arthritis problems and gain positive feedback
Herbal Remedies for Arthritis
You might want to try Joint care extract. This herbal extract will assists in the reduction of joint inflammation and arthritic discomfort.
Reference
K. Schnaubelt, Medical Aromatherapy: Healing with Essential Oils (Frog Books, 1999)
L. Price, Aromatherapy for Health Professionals - Health Professionals (Churchill Livingstone, 1999)
R. Wilson, Aromatherapy: Essential Oils For Vibrant Health And Beauty ( Avery Trade, 2002)
---
Follow Aromatherapy at home
---
Free Download "7 Days Home Spa".
Finally! An Ebook about mini Home Spa that will make your body and beauty refresh. Create a relaxing home spa experience for yourself to melt away stress and leave you feeling pampered and relaxed.

Download "7 Days Home Spa" e-book


From Aromatherapy for Arthritis back to Aromatherapy Treatment

Back to Aromatherapy and Essential Oils Information


---
Aromatherapy Blog | Advantages of Aromatherapy | Aromatherapy Essential Oil | Essential Oils and Their Usage | Aromatherapy Carrier Oils Information | Aromatherapy Blends Recipes | Aromatherapy Hydrosol | Aromatherapy Absolutes | Aromatherapy Candles | Aroma Diffusers | Aromatherapy for Weight Loss | Free Home Spa Ideas | Aromatherapy and Nature Crafts | Aromatherapy Pregnancy | Information About Lavender | Essential Oils for Respiratory System | Natural Ways to Deal with Stress | Aromatherapy Treatment | Aromatherapy for Pet | Chakra Essential Oils | Aromatherapy for Men | Health Benefits of Aromatherapy | Easy Homemade Gift Ideas | Aromatherapy for Women | Essential Oils Cheap or Sale | Aromatherapy Store | Fun Aromatherapy Stuff | Free Samples Aromatherapy | Aromatherapy Free Information | Aromatherapy Advice and Tips | Share Aromatherapy Recipes | Aromatherapy Videos | Aromatherapy Book Review | Aromatherapy Magazine | Aromatherapy Products Review | Aromatherapy Event | Aromatherapy Business Directory |
---