Aromatherapy Bodyscrub Recipes
Homemade Aromatherapy Bodyscrub Recipes
Maintaining beautiful skin is the most to do list if you want to have a soft and smooth skin. Exfoliation is one of the most important parts of your skin regimen to eliminate and remove dead skin cells from the surface of the skin and encourage your body to grow new, healthy skin cells.
You can do this with a body scrub which available in the market. But of course make a homemade one can make you decide what you want, need, and like in a scrub.
Using a body scrub once or twice a week can improves your circulation and blood flow to the skin and it look and feel softer and healthier.
For homemade aromatherapy bodyscrub recipes, mostly people use sea salt and sugar as a base ingredient. Those two ingredients are vital in creating the soft, silky, irresistible skin we all desire. Add with some essential oils to make it smell goods and also have a relaxing effect. Other than those, you can add additives that serve to enhance the product and in turn enhance your skins appearance and health such as coffee, walnut shell or even butter to moisturizing qualities of a scrub base.
Here are some examples of homemade aromatherapy bodyscrub recipes
Aromatherapy Oat Skin Scrub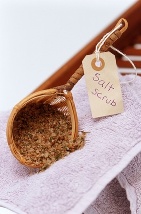 This scrub is a great way to have super silky skin that has a healthy shine.
You will need:
Mix 1/2 cup of oat flour and 1 tbsp of rice flour with 1/2 cup of honey to make a paste. Stir in 3 drops of each lavender and orange essential oils.
Tips: Oat and rice flour can be ground into flour in a blender of coffee grinder then poured through a sifter to remove any large pieces.
The glycerin and honey provides a smooth texture, cleanses the skin and helps the scrub adhere. Glycerin has a benefit of preserving the scrub so it will last for months without putting in a refrigerator. That means you can put it next to bathroom sink or in the shower, ready whenever you need it.
You can use this as a daily routine use. The most common use is for face but you it is also suitable for the whole body.
Reference: Better Nutrition, Jan 2002
Sugar Body Polish
A sugar scrub is better than salt scrubs in exfoliates and smooth skin without the irritate your skin.
You will need:
Mix together all the ingredients and put in a jar.
In using a body polish you may take a quick shower so your skin is dampen. This sugar mixture needs to b applied while in the shower. Gently massage the body polish onto your skin. In rinsing you must use warm water. It is also recommended to keep safety in mind first above all else so use no-slip mats when using the body polish to prevent falls.
Sea Salt Glow
Get your skin glow with this rejuvenating sea salt body scrub
You will need:
Mix all the ingredients to make a paste. lightly rub the paste on heal, hands, elbows, and rough spot. Rinse with warm water and moisturize your skin with aromatherapy body lotion or aromatherapy body butter. Repeat once a week to keep skin smooth and subtle.
Enjoy scrubbing away the impurities, and look forward to the healthy new skin that will emerge.
Related Articles
Try also
Oasis Body Scrub
- another aromatherapy bodyscrub recipes from mountain rose herb.
Aromatherapy bath and body - Easy aromatherapy recipes for bath and body care
Aromatherapy Mask - Aromatherapy mask can leave a wonderful rejuvenating effect on your skin. Try our homemade facial mask to make your skin healthier.
---
Follow Aromatherapy at home
---
Free Download "7 Days Home Spa".
Finally! An Ebook about mini Home Spa that will make your body and beauty refresh. Create a relaxing home spa experience for yourself to melt away stress and leave you feeling pampered and relaxed.

Download "7 Days Home Spa" e-book


From Aromatherapy Bodyscrub Recipes back to Free Aromatherapy Recipes

Back to Aromatherapy and Essential Oils Information


---
Aromatherapy Blog | Advantages of Aromatherapy | Aromatherapy Essential Oil | Essential Oils and Their Usage | Aromatherapy Carrier Oils Information | Aromatherapy Blends Recipes | Aromatherapy Hydrosol | Aromatherapy Absolutes | Aromatherapy Candles | Aroma Diffusers | Aromatherapy for Weight Loss | Free Home Spa Ideas | Aromatherapy and Nature Crafts | Aromatherapy Pregnancy | Information About Lavender | Essential Oils for Respiratory System | Natural Ways to Deal with Stress | Aromatherapy Treatment | Aromatherapy for Pet | Chakra Essential Oils | Aromatherapy for Men | Health Benefits of Aromatherapy | Easy Homemade Gift Ideas | Aromatherapy for Women | Essential Oils Cheap or Sale | Aromatherapy Store | Fun Aromatherapy Stuff | Free Samples Aromatherapy | Aromatherapy Free Information | Aromatherapy Advice and Tips | Share Aromatherapy Recipes | Aromatherapy Videos | Aromatherapy Book Review | Aromatherapy Magazine | Aromatherapy Products Review | Aromatherapy Event | Aromatherapy Business Directory |
---