Aromatherapy Body Butter
When you need major moisture
Aromatherapy Body Butter will comes to the rescue
Before I start, I want to tell you the difference between body lotion and body butter and what is better for your skin.
Body butter is a product of the combination of carrier oils infused with butter substances like shea, cocoa, kukui, and mango. There are certain formulas that allow you to add wax. This substance produced by combining the materials is usually heavier and thicker than lotion and so is slowly absorb by the skin.
Aromatherapy body lotions are lighter and easier to apply and be absorbed by the skin. Body lotions may be a combination of floral waters or hydrosols, oils an additive - wax and an emulsifier of the fat components like borax.
The usage of body lotions and body butters are usually associated with the climate or season. On Dryer months when the body perspires more body lotions are often used because it is easily absorbed. During cooler/ winter months when the skin could be dryer due to the temperature body butters are more suitable for use.
Body butters are more expensive than body lotions but this cost difference is compensated by the amount of the blends you need to apply each time. Only a small amount of body butter will be required for each application.
Basic aromatherapy body butter recipes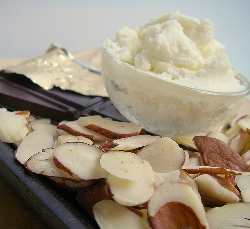 Aromatherapy Body Butter
1/4 cup cocoa butter which is good for cracked or dehydrated skin
1/2 cup coconut oil
And a few drops of your chosen essential oils
Soften the coconut oil and cocoa butter in the double boiler medium heat, remove from the heat and add essential oils, stir to blend. Put it in a jar and store in cold dry place.
Cocoa Butter is characterized by a pale yellow hue. The scent, cocoa as the origin of the substance, smells like chocolate. This scent quality usually would drown all other scents but may still be used in relatively low proportions to create balance. When combined with Neroli essential oil the odor creates a nostalgic feeling when you had that exquisite and sense-stimulating dessert.
There are other body butter materials like shea, mango or kukui. These skin butters apparently are different and so using any of these will yield a variation in the body butter you create.
Coconut oil is available at health store, but if you don't like the scents you can replace coconut oil with:
Avocado Oil, is usually for mature and dry skin
Safflower Oil, is good purpose for all solution
Grapeseed oil, is less greasy and better for younger skin.
Please avoid mineral oil cause it is a refined petroleum products and provides no nutrient to the skin.
How to apply aromatherapy body butter
The best way to apply body butter after a hot bath. The hot bath will open your skin pores so that it is ready to receive any kind of treatment.
Apply on small amount of aromatherapy body butter. Because it is thicker so small amount can expand much further as it melts.
Do a massage until the butter absorb onto your skin and has completely disappeared. It will takes time. but believe me it worth!.
Your skin will left with the ultimate shine and just a tiny bit oily. Unlike body lotion, the scent of body butter will stay all night.
And when you touch your skin, you will feel there will a thin layer on your skin, which will leave you oily but not stick. But after a while it will disappeared and leave your skin shine and soft. Now that what I called pampering
Shop online: Which one have the best body butter?
Try to go simple? instead of making your own body butter why don't you just buy it. There are many leading brand outside for you to chose. But how can you decide which one is better?
There 2 things that people notice when buying body butter; The scent and their absorbency.
The scent -- As the body butter will be stay all night. so this is very important. Try to pick your favorite scent. As you know I like fruity scent more than floral. so my best choice would be Body Shop Pink Grapefruit Body Butter.
Other than the scent, Body shop butter are great on my skin. I never fell too oily on my skin and spread so well. And Body shop uses many natural ingredients such as shea butter, cocoa butter, and grapeseed oil.
My Review 5 out of 5.
Get addicted to pamper yourself? Check out other recipes from this site. From Aromatherapy body butter back to aromatherapy blends recipes
Reference
A. Bond, Home Enlightenment for creating healthy home, (Rodale, 2005)
Difference Between Body Butter, Balm, Salve, Ointment, Liniment, Tincture, Infused Oil, Infused Vinegar, Lotion, Cream
---
Follow Aromatherapy at home
---
Free Download "7 Days Home Spa".
Finally! An Ebook about mini Home Spa that will make your body and beauty refresh. Create a relaxing home spa experience for yourself to melt away stress and leave you feeling pampered and relaxed.

Download "7 Days Home Spa" e-book


Back to Aromatherapy and Essential Oils Information


---
Aromatherapy Blog | Advantages of Aromatherapy | Aromatherapy Essential Oil | Essential Oils and Their Usage | Aromatherapy Carrier Oils Information | Aromatherapy Blends Recipes | Aromatherapy Hydrosol | Aromatherapy Absolutes | Aromatherapy Candles | Aroma Diffusers | Aromatherapy for Weight Loss | Free Home Spa Ideas | Aromatherapy and Nature Crafts | Aromatherapy Pregnancy | Information About Lavender | Essential Oils for Respiratory System | Natural Ways to Deal with Stress | Aromatherapy Treatment | Aromatherapy for Pet | Chakra Essential Oils | Aromatherapy for Men | Health Benefits of Aromatherapy | Easy Homemade Gift Ideas | Aromatherapy for Women | Essential Oils Cheap or Sale | Aromatherapy Store | Fun Aromatherapy Stuff | Free Samples Aromatherapy | Aromatherapy Free Information | Aromatherapy Advice and Tips | Share Aromatherapy Recipes | Aromatherapy Videos | Aromatherapy Book Review | Aromatherapy Magazine | Aromatherapy Products Review | Aromatherapy Event | Aromatherapy Business Directory |
---